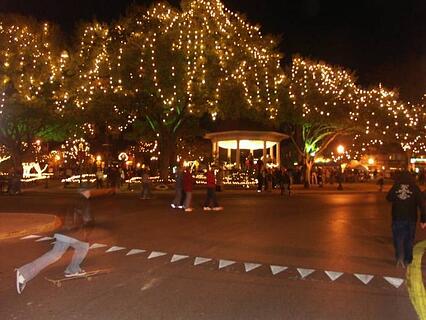 Image via Radio NB
Join us for the 22nd Annual Wassailfest on Thursday, December 4th at 6 p.m. in downtown New Braunfels. The event kicks off with Mayor Barron Casteel giving the first wassail toast at the Main Plaza Bandstand decorated with over 100-thousand twinkling lights. This year's Wassailfest features over 40 different Wassail Stops, 12 food vendors and live entertainment. Businesses will also be open during the event. Don't forget to check out the annual Wassail judging contest and downtown window decorating contests. The Wassail will be judged in two categories: the Wassail-Meister award which will be voted on by a panel of judges and the People's Choice award which will be voted on by the public. Winners will be announced the next day -- Friday, December 5 at 2 p.m. at the Main Plaza Bandstand.
Additionally, on Friday the 5th at 2 p.m., Irish folksinger Danny O'Flaherty will perform his annual "Celtic Christmas" at the Brauntex Theatre. The popular event traces the roots of holiday celebrations in Celtic countries including Ireland, Scotland, Wales, Cornwall, Brittany and the Isle of Man. You can pick up tickets for free at the Brauntex Theatre box office, the New Braunfels Public Library, and stand-by at the concert.
Then on December 9th the world-famous Air Force Band of West will perform a holiday concert at the New Braunfels Civic and Convention Center. The concert will begin at 7 p.m. Admission is free. The band plays music from the Renaissance through present day, including Broadway tunes, Sousa marches and pop hits. The Air Force Band of the West has performed for presidents and heads of state around the world.
Holidays events in New Braunfels include Wassailfest and Christmas concerts. Vintage Oaks is located close to New Braunfels' events that can become part of your family's holiday traditions.