Luxurious Home Decor Ideas That Won't Cost You a Fortune
Updating your home decor doesn't mean you need a giant budget. Whether you're looking to begin a big project or give one room a fresh look, you don't have to spend a ton. Small tweaks can make a big difference in the way your home looks and feels. Follow these design tips and in no time you'll have a brand new space and a little cash to spare.
The first thing you want to do is settle on one space you want to update. Updating room by room will save your remodel budget and allow you to finish one home decor project at a time. And before you begin purchasing items to piece together for a new look, create a design plan. Again, this will keep you focused on the single update. In order to create a list of items for your design plan you'll need inspiration to get those creative juices flowing.
It is said that imitation is the highest form of flattery. Whose look do you love that you know used an interior designer for the remodel or redesign? If it's a friend or family member, they will appreciate that you loved their update and can even give you pointers about how to make the look even better. Also, try searching online for celebrity home decor ideas that you can reproduce. You'll find great ideas that you can then adapt to fit your budget. Design magazines can also be very helpful since they are written by experts. Another popular online resource is Pinterest; do a search of trends you like and you'll find a wealth of DIY blog posts and images.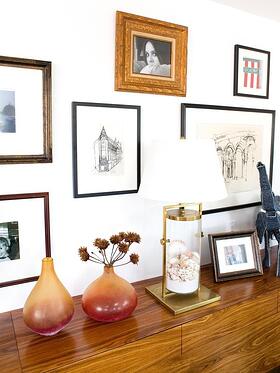 Your next step is to harness that creativity into an action plan. Draw out your room and begin to piece together the update. Choose the color scheme and pattern you want. Once you've completed this, you are ready to put together a list of items you want to buy.
What is your budget for purchasing items? No matter if you are spending a little or a lot, it can get away from you quickly if you don't decide on a certain amount up front and stick to it. A hundred dollars can make a big difference; a coat of paint, accessories and new curtains are inexpensive tweaks.
Now it's time to shop and where you go is key. Garage and estate sales are great places for unique finds, however, no matter how cheap don't go off your list, a new piece is not useful sitting in your garage because it didn't work.
Give your room the luxurious finishes you are looking for by getting a little inventive. The addition of a collage of mirrors will make any space look bigger and a few pieces of vintage artwork gives any room a new look. Do-It-Yourself has become much more common in the recent years due to the amount of resources available online. Save yourself some cash and learn something new!
Do you have tons of ideas for new home decor and just need the space to begin? We can offer you the perfect palette, request information about a Vintage Oaks property and set your plan in motion.