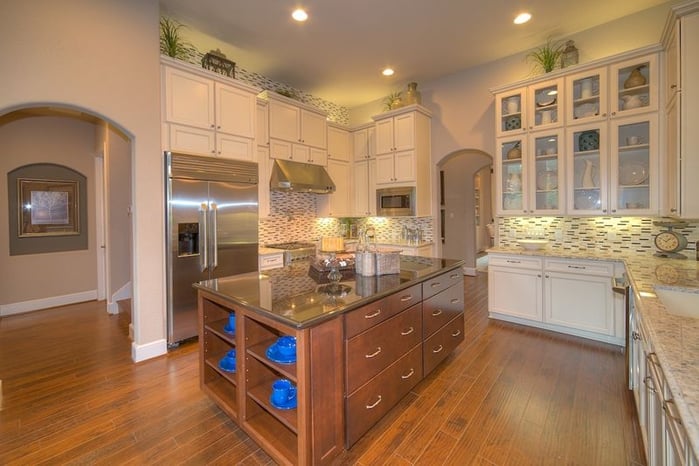 In the 1970s, kitchens were separate from the rest of the living space, formal living rooms were all the rage, and the only bedroom space that was typically on the first floor was intended for live-in housekeeping help. A lot has changed since then, and, in fact, homebuilder trends continues to reflect the changing needs of today's buyers.
Open floorplans
A trend that has evolved over many years, open floorplans aren't just a good thing to have—they're expected in today's new homes.
After the kitchen became the home's hub, the next step was to remove all walls for greater togetherness," said Realtor Magazine.
Builders accommodate this trend in new home plans with floorplans that create open gathering areas that flow from the kitchen to the living room—ideal for today's families.
Kitchen as focal point
Today's kitchens meet the needs of homebuyers, who tend to gather in and around this area. Builders are also paying attention to the function of the kitchen, creating layouts that are suitable for both cooking and entertaining, and including or offering high-end appliances and finishes.
"The kitchen as the center of our homes is no longer news, and it's certainly no surprise. This is the room where many of us really live," said Professional Builder. "As a result, the kitchen must be carefully arranged to function as both a food preparation area and a gathering place for family and friends."
Catering to Baby Boomers
A few of the most popular trends in homebuilding today are in support of Baby Boomers and aging populations. One-story living, first-floor master suites, and dual masters are all features that are gaining ground.
"Having two master bedroom suites, each with its own adjoining bathroom, makes a house work better for multiple generations. Such an arrangement allows grown children and aging parents to move in for long- or short-term stays, but the arrangement also welcomes out-of-town guests," said Realtor Magazine.
Upgrades as standard
Some upgrades, like granite countertops, have become so popular that builders like Lennar Homes have begun offering them as standard in communities that offer their Everything's Included (EI) program. Even in first-time buyer neighborhoods, homebuyers are able to get many of today's most desirable features at no extra cost.
Semi-custom homes
Occupying the space between builder homes and custom homes, these residences offer unique opportunities to personalize floorplans and features beyond the available options and upgrades offered at a typical new-home community. Builders like Ryland Homes and David Weekley Homes allow buyers a more customized look and feel without the wait of custom construction at communities like The Reserve at Vintage Oaks. With price points that can be comparable to new builder homes, this type of offering is a popular choice today.
Indoor-outdoor living
Indoor-outdoor living is a trend that only continues to grow, and builders have been expressing this trend through a variety of features. Covered patios, outdoor kitchens, outdoor fireplaces, and doors that fold or slide out of the way, removing the barrier between inside and out, are just a few of the features builders are offering.
"Indoors ventures outside" is one of HGTV's backyard trends this year, and it is especially relevant in the Hill Country, where buyers are always looking for ways to enjoy their scenic surroundings.
The end of the formal living room?
Families today gather in the living room, the kitchen, or outside around the patio dining table. When "company" comes over, it tends to be the same arrangement. Formal living rooms used to be where adults gathered for a drink before dinner—and another one after. It was the "no-touch" zone for kids. But modern families have veered away from formal areas. Many builders no longer show a formal living room in any of their homes. The room has been replaced by a home office or guest room, or folded into the other living spaces.
For more information, visit Vintage Oaks or click below to download our free Hill Country Real Estate Buying Guide.