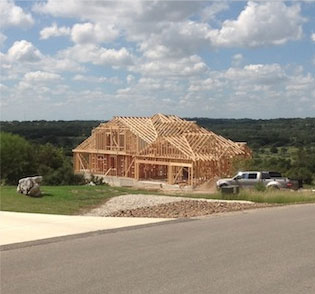 Confused about how to go about finding a contractor when homebuilding in New Braunfels? If it's your first custom Hill Country home, it it's been a while, or if you simply want a refresher, it's best to develop a list of questions to ask during the evaluation process.
This will get you started:
1. Can you tell me about your experience?
You want to hear about potential contractors' skills and experience in building custom homes firsthand. But, beyond that, be sure to research them, looking for positive—and negative—reviews and any information you can find about their projects, reputation, and track record.
2. How many homes have you built in total, and how many in my area?
It's important to know that your contractor has sufficient industry experience and also that he knows the ins and outs of building in the Hill Country.
3. Can you give me some referral information?
Talking to recent customers is one of the most important things you can do when choosing a contractor. Be sure to ask:
Are you happy with your home, and why?
What were the challenges along the way?
How did your contractor handle any issues that came up?
What was the difference between the original bid and the finished home's price?
4. What can you tell me about your industry references?
A contractor's relationship with suppliers and other partners is critical to making sure your build goes smoothly.
5. Who's going to be on site day to day?
You may not see the person you've met with everyday, or even the General Contractor. You'll want to make sure you meet with the job foreman and anyone else who will be in a leadership position while you're building a house in New Braunfels.
6. Can I expect to receive an itemized bid?
If the answer is anything yes than, "Absolutely," this should raise a red flag. A bottom line number is great to take to your lender, but you'll want the bid broken out so you know how much is being spent on framing, plumbing, electrical, and all your finishes.
7. What contingencies are included in your contract?
If things go wrong, what's the plan?
8. Is there a big difference between building on raw land and improved land in terms of budget and construction timeline?
The answer may help you make a decision between the two.

9. What should I consider when narrowing down homesites?
Buying land in the Hill Country is an exciting process, but figuring out which New Braunfels homesite is ideal for the home you want to build may require help. Your contractor may be able to give you some guidance into which Texas homesites would be best.

10. How long will it take to build my home?
No contractor will give you a definitive date. Between inclement weather and materials delays, you just won't know for certain when your move-in date will be until you're closer to the end. But, your contractor should be able to give you a loose idea of how long it will take to build your Hill Country home.
11. How will you handle delays that come up?
Hearing about contractors' contingency plans can help one rise above the rest.
12. Are you insured?
Make sure they have liability insurance and workers compensation for employees.
Need more information on buying land in the Hill Country and building a home in New Braunfels? Visit Vintage Oaks, the fastest-growing community in the Hill Country. Or you can click below to check out Deer Creek, the newest property release at Vintage Oaks.