Get Moving into a Master-Planned Community
A master-planned community has many advantages; beautiful surroundings and homes, lots more outdoor space than a normal community and many of activities just around the corner from your home. Did you know that features of living in a master-planned community could actually improve your health?
Janice Neumann of the Chicago Tribune recently explored how this style of living can actually prove to be better for you than other environments. No, the developers aren't putting vitamins in the water; it has more to do with their thoughtfulness in the design of the community's health-minded offerings.

Walk This Way
A master-planned community tends to be larger in size versus a normal community allowing lots of walking throughout the area. Also, residents don't just get exercise walking the streets or sidewalk, but on the numerous walking trails. According to a study done by the National Association of Realtors, the number one thing community residents want are walking trails in their neighborhoods. The Mayo Clinic says cardio exercise such as walking and running offers great health benefits. In addition to heart healthiness and weight loss, cardio exercise can help relieve stress and increase your well-being.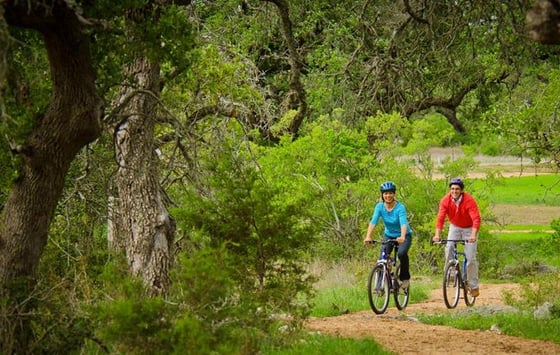 Get Social
Yes, there are health benefits to being around other people. With parks, playgrounds and soccer fields right in the neighborhood, master-planned communities offer easy opportunities for social interaction as well as exposure to fresh air, green surroundings and plenty of sunlight. These types of interactions are important when examining Americans' rapidly growing chronic disease and obesity says the Urban Land Institute.
Make it Generational
Master-planned communities are great place to teach children about healthy living as well. Included parks, trails and swim parks are located conveniently within walking distance and can give your kids something to do outside instead of sitting in front of the TV or playing on the iPad.
Vivian Loftness, an expert on environmental design, says walkability is a must for kids. "One thing that becomes pretty clear in a lot of the research that's been going on is that individuals who live in walkable communities and their kids who can essentially walk to the library or school or a playing field, that there is a substantially healthier child," she said.
Vintage Oaks is a master-planned community that expands across the green, lush landscape of Texas Hill Country just outside of New Braunfels. Download our New Home Buyer's Guide and find out you can experience our brand of healthy living for yourself.