Pairing German Heritage with Hill Country Real Estate
The roots of the Texas Hill Country can be traced back to German immigrants who came to Texas in the 1850s. These immigrants left a permanent stamp of German culture that still exists today. The local charms of New Braunfels, TX and neighboring towns Gruene, Fredericksburg, and Luckenbach draw in visitors from all over the world. Plan your own day trip to the Hill Country and see what makes this area unique for traditions!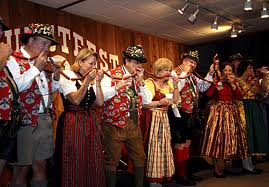 Where It All Began
According to New Braunfels History, the founder of New Braunfels, Prince Carl of Solms-Braunfels, Germany saw opportunity in Texas to create a community in Texas for trading. Hundreds of Germans made the journey to south central Texas to claim a share of land and start a new life. Since then, New Braunfels and the neighboring areas have continued to grow and attract families towards Hill Country real estate for the stable economy and quiet scenic places to live.
The Innovative History of New Braunfels
It's no surprise from under German culture influence, in 1847 the New Braunfels Brewing Company became the first commercial brewery in the state of Texas. With a dominant German population, the first newspaper published in New Braunfels was written in all German language in 1852. Almost 40 years later, the first all English language newspaper was published.
The oldest dance hall in Texas, Gruene Hall located near New Braunfels, opened in 1878. Many famous musicians have played here in the past. This innovative, hardworking nature of the early settlers is the heart of the reason why this area continues to be one of the fastest growing places in the country.
German Roots Inspire Community Ideals
The sense of community is evident in this area. With annual events including Wurstfest, Gruene Music and Wine Fest, and the Historic Home Tour, there is no shortage of tradition in New Braunfels. This is why the master planned community Vintage Oaks fits so well among the Texas Hill Country real estate lifestyle.
Vintage Oaks also upholds similar values to those early German settlers. A sense of community is one of the most important standards Vintage Oaks wants to maintain for their residents. They host many community events like Trunk-or-Treat for families to meet and have some fun! Can you see your family living in an area rich in traditions? Browse our Vintage Oaks featured real estate properties and find a new place to call home today!