Finding Your New Home Organization Rhythm
Your family has moved into your new home and you are determined to keep it looking exactly like the day you moved in. That might be a lofty goal, but there are quick things you can do each day to keep your sanity and your home in order. These professional organizers shared some of their best advice with House Beautiful.
Never Organize Your Linens Again

One of the most difficult areas of home organization is the linen closet. It can quickly become the catch-all for bathroom accessories and get cluttered quickly. Julia Buckingham, a Chicago-based interior designer gives a quick tip to get your linens organized in a flash; use a pillowcase to keep the corresponding sheet set folded, easy to find and orderly.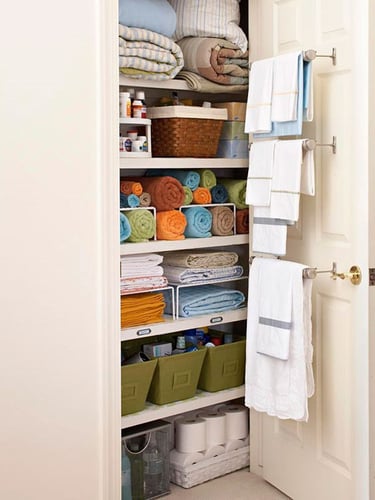 Image Source: Better Homes and Gardens
Keep Your Bathroom Shelves Neat
Are you constantly digging for something hidden at the back of your bathroom cabinet? Save yourself the hassle of re-buying things you already have by upping your home organization skills. Grab a lazy Susan, the kitchen accessory that you find on many kitchen tables, and add it to your bathroom. It makes all your toiletries easy to find because it spins and will clear some shelf space as well.
Save Some Steps
Erin Souder, found of Earnest Home Co., has implemented this easy tip in her own home. Designate a cleanup bin to save time transporting things from downstairs that belong on the upper levels. Leave the bin at the base of the stairs and during cleanup throw everything in. You'll only have to make one trip up the stairs to put things away.
This Accessory Makes Home Organization Fun
Australian designer Jason Grant says when all else fails grab a decorative tray. A tray in your office or kitchen can give an added bit of personality to the space and get things you use every day more organized and moved to one central place. Not only will this tip get your organized but will save you the stress of tracking down your keys or ink pen.
Is it time for you to make the move to a new home? At Vintage Oaks we have homes available right now or you can choose to purchase a homesite and have one of our custom builders design a beautiful home for you.
Download our Guide to Buying a New Home in the Texas Hill Country to help make the best buying decision for you and your family!