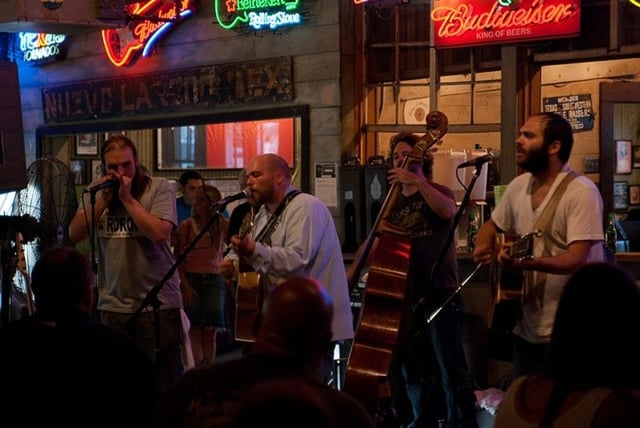 It's time for one of the favorite events in the Hill Country, spotlighting Texas and Texas Hill Country music with four days of fun. The Gruene Music & Wine Fest takes place Thursday through Sunday, Oct. 6–9.
"The Gruene Music & Wine Fest began as a one-day event in 1987 with the purpose of promoting Texas and Americana music in a fun and relaxed setting while raising funds for the United Way of Comal County," said the New Braunfels Chamber. "Over the years, it has become a four-day celebration not only of Texas and Americana music, but also a celebration of Texas, German and New World wines, specialty beer, food and handcrafted items."
This fundraising event started in 1987, during which "a mere $450 was raised for United Way," they said. "But as the event has grown, so too have the funds given. We now raise over 250 times that amount and have been able to double our funds raised just in the past six years."
The event has also grown in terms of its participants and the depth of entertainment it provides to guests.
"In recent years, we have been able to expand the 'Texas Tastings & Tunes' event on Saturday to include over 40 wine & food producers for tastings and 'Le Cordon Gruene' food alley," said the Festival. "To further enhance Sunday's 'Texas-Style Musicfest', we've added a Specialty Beer Tasting event, a second stage and the big game on a big screen TV's. A Craft Market has also been added to both Saturday and Sunday events. In 2010, we added an entirely new 'Not From Texas' kickoff event taking place on Thursday and featuring German and New World wines, live music and 'Not From Texas' door prizes!"
Here is the daily schedule:
Thursday, Oct. 6—"That's Right—It's Not From Texas"
Featuring:
A "Taste Exploration of non-Texas wines"
A concert at Gruene Hall by Margot Price
Live music from Acoustic Jungle
Numerous prizes including vacation packages to New York City, Napa Valley, New Orleans, Charleston, Orlando, and Nashville
Friday, Oct. 7—"Rockin' With Texas Wine & Food
Featuring:
Private Show & Meet 'n Greet featuring Jack Ingram, Charlie Robison, and Bruce Robison
Silent auction
Catered dinner by The Gristmill
Wine tasting with Kiepersol Vineyards & Winery, Los Pinos Ranch Vineyards, and Wedding Oak Winery
The Great Guitar Auction featuring autographed guitars by George Strait, Willie Nelson, Loretta Lynn, Ronnie Milsap, Chris Isaak, LeAnn Rimes, Ryan Bingham, Ziggy Marley, Kevin Costner, Ray Benson, Jamey Johnson, Texas Style Musicfest 2015, Americana Music Jam 2014, Unleashed Live (Jack Ingram, Charlie Robison, & Bruce Robison), and Charlie Daniels (fiddle)
Concert at Gruene Hall with Jack Ingram, Charlie Robison, and Bruce Robison
Saturday, Oct. 8—"Texas Tastings & Tunes
Featuring:
Live music on two stages
Tastings of Texas foods and almost 100 different Texas wines
Gift market
Marshall Tucker Band Concert at Gruene Hall
Sunday, Oct. 9—"Texas-Style Musicfest"
Featuring:
Eight hours of "the very best live Texas tunes" including Stoney LaRue, Dirty River Boys, Seth James Band, Bart Crow; Flatland Cavalry
Specialty Beer Tasting with more than 50 beer available
Gospel Brunch with a Texas Twist at Gruene Hall
"Haute food" and wine tasting
Gift market
Be sure to leave time to head from Gruene over to Vintage Oaks. If you haven't been here for a while, you'll be surprised to see how many beautiful Hill country homes have been built among the community's rolling hills, towering oak trees, and resort-style amenities. If you've never been here, this is a great opportunity to see why Vintage Oaks is the fastest-growing community in the Hill Country for the past three years.
For more information, visit Vintage Oaks or click below to see new homes that are now available.