The Factors That Have Led to the Strong Job Growth in Texas
The east and west coasts might be where many people like to vacation, but Texas has increasingly become one of the best places to live in the United States. There are many factors contributing to this boom, but how fast is the job growth in Texas?
According to a CNNMoney article, this statistic from the Census Bureau is very telling; three of the fastest growing cities in the United States are in Texas. The major cities of Houston, Austin and San Antonio all rank in the top five.
Strong Job Market
According to the article, New York is still at the top of the list of places Americans like to visit. However, the lack of sales tax and relatively low cost of living compared to cities in places such as Manhattan and Silicon Valley make Texas an attractive option. Job growth in Texas continues as more and more tech companies are looking toward cities like Austin to grow their teams.
Not only has Texas become a newer focus for tech companies, it is also a growing target for education and health care jobs. The healthcare industry has seen continual growth in the last ten years. Based on information given in an article on The Texas Economy's website, the industry added over 44,000 jobs between 2006-2010, with credit given to the growth of an ever-increasing need for medical care for an aging population.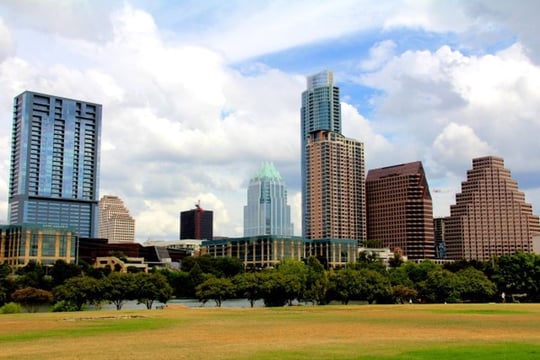 Image Source: Lily Morris
Lower Median Home Prices
According to Forbes contributor Nav Athwal, Los Altos, CA has become the most expensive place to live in the United States, median home cost there has increased to $2.3 million. However, the median home cost in Austin still remains at $216K, and the city is the number one market in the United States for homebuilding, based on a report by Urban Land Institute (ULI) and PricewaterhouseCoopers. The study also ranked Austin as fourth for development and second for investment overall in the country, both contributing to job growth in Texas.
Since 2010, Austin's population has grown by 100,000, adding to the corresponding job growth in Texas. However, you don't need to live in Austin to experience the positive effects of the Texas economy. Vintage Oaks offers homes and homesites just outside the city in New Braunfels. Download our Family Guide to Hill Country Living and let us help you make the best home buying decisions for your family.