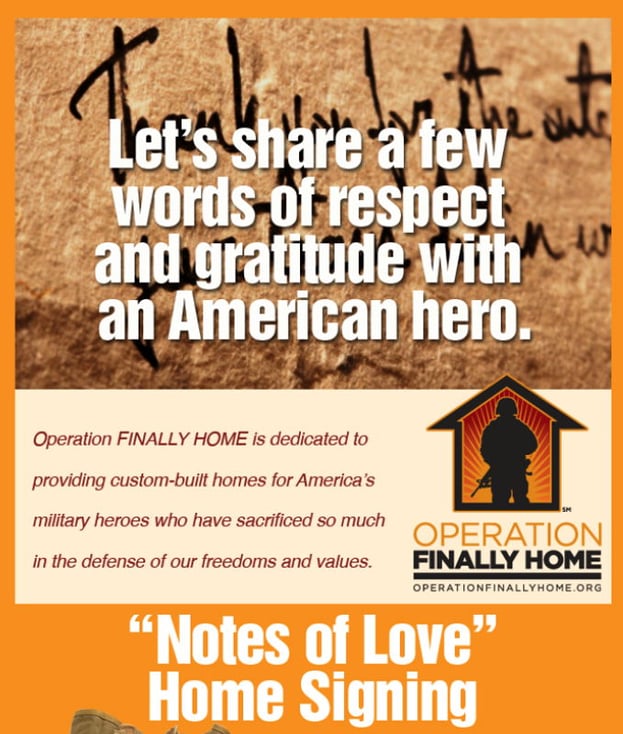 You're invited to help welcome home an American hero and the newest resident of Vintage Oaks with Notes of Love on Saturday, September 26, 2015, 10am to noon. This special event honoring U.S. Army Specialist Michael Crawford will be held at his brand-new, mortgage-free home under construction, at 1976 Appellation New Braunfels, TX 78132, in the Vintage Oaks community.
Notes of Love is a wonderful opportunity to show respect and appreciation for this wounded veteran and military hero by writing inspirational and welcoming messages directly on the home's framing. Residents, friends, and community members join together to express their lasting gratitude for individuals who have sacrificed so much for our freedom. Notes of Love and support will be forever preserved within the walls of Crawford's home.
The 23-year-old Crawford was injured during combat in Afghanistan in 2011 when an improvised explosive device (IED) struck his truck. He is paralyzed in his right leg and has minimal movement in his left leg. He received a Purple Heart and a Bronze Star for his service.
"It is an honor to be able to give back to our American heroes through our partnership with Operation FINALLY HOME (OFH), and the Notes of Love event is one more inspiring step along the way to being able to dedicate this new mortgage-free home to Specialist Crawford," said Thad Rutherford, Chief Operation Officer of SouthStar Communities, the developer of Vintage Oaks. "Our veterans' sacrifice to this country is tremendous, and we are so proud to be able welcome him to the SouthStar and Vintage Oaks family."
SouthStar Communities, Operation Finally Home, and HEB broke ground earlier this year on the one-of-a-kind, custom-built, mortgage-free Smart Home for Crawford. The ADA-accessible and barrier-free home will include features such as automated kitchen cabinets and closet systems, a custom clothing lift, and a variety of smart appliances specialized for wheelchair access. A robotic vacuum and lawnmower and mechanical mop designed by robotics specialists at the University of Texas at Arlington Research Institute are also included.
SouthStar Communities provided the one-acre homesite in Vintage Oaks—the 11th such mortgage-free homesite for a wounded veteran through its partnership with OFH. Vintage Oaks is a top choice for veterans buying land and homes with its onsite amenities, proximity to the San Antonio Military Medical Center, the VA Clinic in New Braunfels and Randolph AFB, and military friendly environment.
One of the largest contributors to Veteran Land Board loans in Texas, Vintage Oaks recently opened Timber Ridge Park, which features Veteran's Walk—a pathway of engraved stones honoring neighborhood veterans and their families. As part of the groundbreaking ceremony earlier this year, SouthStar presented Specialist Crawford with the park's first personalized stone.
For more information, visit Vintage Oaks or click below to view photos from the new Timber Ridge Park and Veteran's Walk.