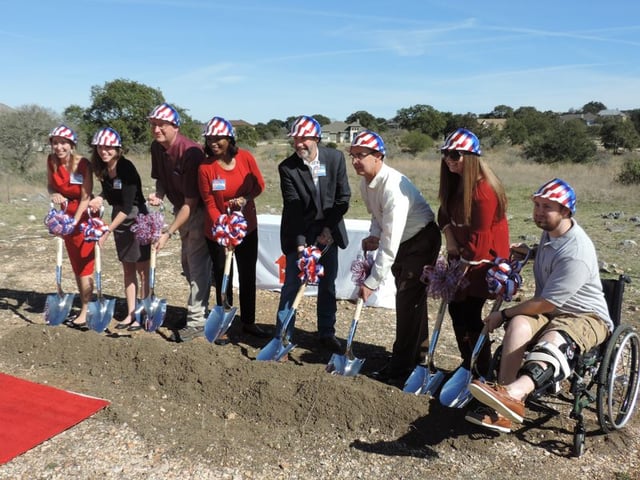 Please join us at Vintage Oaks as we welcome home an American hero on Friday, February 19 at 2pm. Hill Country masterplanned community Vintage Oaks is proud to dedicate a brand-new, mortgage-free home for wounded veteran and U.S. Army Specialist Michael Crawford in conjunction with Operation Finally Home (OFH) and HEB. The address is: The address is 1976 Appellation in the Vintage Oaks community.
Crawford was critically injured while serving the country in Afghanistan in 2011. During combat, an improvised explosive device (IED) struck Crawford's truck, leaving him paralyzed in his right leg and with minimal movement in his left leg. He received a Purple Heart and a Bronze Star for his service and bravery.
This one-of-a-kind, custom-built, mortgage-free Smart Home at Vintage Oaks has been specially designed for Crawford, is ADA-accessible and barrier free, and includes features such as:
Automated kitchen cabinets and closet systems
A custom clothing lift
An array of smart appliances specially designed for wheelchair access.
A robotic vacuum and lawnmower and mechanical mop designed by robotics specialists at the University of Texas at Arlington Research Institute
Vintage Oaks residents, community members, and friends came together to create Notes of Love during the framing stage of Crawford's home while it was under construction. These messages expressing gratitude and support are forever preserved within the walls of the Hill Country home and offer a glimpse into the kind of widespread respect the community has for military heroes.
That support starts at the top, with Vintage Oaks, developer SouthStar Communities, and OFH's commitment to veterans. SouthStar donated the one-acre Hill Country homesite for Crawford's custom home in Vintage Oaks—the 11th such mortgage-free homesite for a wounded veteran through its partnership with OFH. The non-profit OFH has provided more than 40 mortgage-free homes for wounded soldiers all over the country through its partnerships with builders, developers, community partners, and civic leaders.
For more information about Vintage Oaks' veteran-friendly community in Texas or buying land in the Hill Country, building a home in New Braunfels, visit the website. You can also click here to learn more about Operation Family Home or Texas Veteran Resources, or click below to view the latest release of Hill Country land.