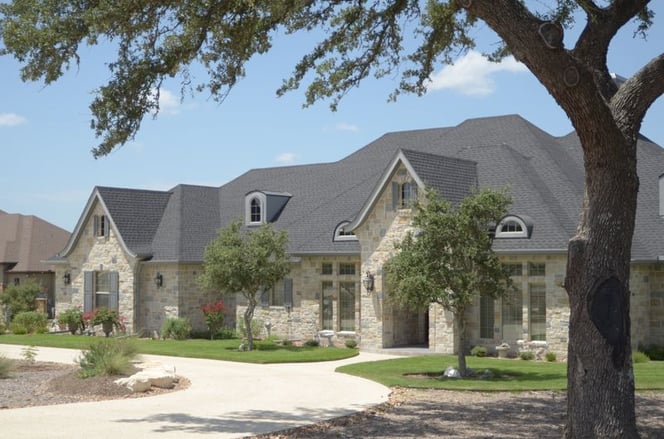 The Hill Country landscape is prized for its rolling hills, magnificent oak trees, and native plants. When it comes to landscaping properties, area residents look for ways to bring the Hill Country home.
Although landscaping in the Hill Country comes in a variety of styles, the predominant style today is Xeriscaping, an environmentally friendly approach that combines drought-tolerant materials and those that are indigenous to the area. Xeriscaping is a growing trend nationwide, especially in areas suffering from drought conditions, and is a favorite among Texas Hill Country landscapers because of the climate.
"In an effort to conserve water and 'go green,' an increasing number of homeowners are creating outdoor…living areas that include xeriscaping," said Texas Pools and Patios. "This type of landscaping increases water conservation by including fewer grassy areas, clever plant placement and the use of native plants. This look also goes well with the rocky landscape of the Texas hill country."
Thanks to a vast array of native plants, Hill Country yards can display many different looks. "Texas has the largest amount of Native plants that can be used for landscape purposes in the United States," said Texas Land Design. "Native is not just cactus and rocks…it is also layers of green, vibrant flowers, season long blooms and winter evergreens."
Homeowners can also add adaptive plants to extend the options in their Hill Country yard. "Adapted plants are not native and not invasive, but are able to thrive in the local climate and soil conditions," said Landscape for Life.
Some favorites of Hill Country homeowners include:
Natives
Hill Country Aster—Rose to purple flowers with fragrant leaves
Lindheimer Muhly Grass—Features blue-green leaves and grows tall enough to use as a soft privacy screen
Gulf Muhly Grass—Grows to two feet high and blooms in pink-purple tufts in the fall
Texas Sage— A medium shrub that blooms in purple blooms from summer into fall
Autumn Sage—A great choice for people who want to attract hummingbirds to their garden
Desert Willow— A long-leave tree that flowers in light pink to light violet blooms
Yucca—There are 16 varieties native to Texas, with four species indigenous to Central Texas.
Yaupon Holly—An evergreen shrub that can grow up to 30 feet
Live Oaks—Perhaps the most famous of native trees, live oaks can have branches that extend horizontally.
Adaptives
Rosemary—Thrives in Texas heat and helps to keep mosquitoes away
Trailing Rosemary—Also known as creeping rosemary, this plant stays low to the ground and can cover several feet.
Knockout Roses—A favorite for its consistent color, sweet-smelling blooms, and drought-tolerant properties
Lantana—A low-maintenance plant that produces an abundance of brightly colored flowers
Chinese Pistache—A shade tree known for its spectacular fall color ranging from light orange to crimson
For more options, visit Hill Country Gardens.
Another option for Hill Country homebuyers is to balance the natural terrain of the land with more formal landscaping. "Today many homebuilders and homeowners are choosing to leave a portion of their land in the natural state that drew them to the area," said San Antonio Water System (SAWS). This landscape "is designed to blend seamlessly from the untouched area of a property to a more formal landscape close to the house."
"Use of existing limestone outcroppings
Minimum use of turf
A space for wildflowers
Use of plants native to the Hill Country
Areas of the property left in its natural condition"
Materials include several varieties of oak trees, as well as Ashe juniper, Texas mountain laurel, and Texas redbud; shrubs such as evergreen sumac, and agarita; a mix of perennials and annuals, and ornamental grasses.
For more information, visit Vintage Oaks. You can also click below to learn more about the Hill Country.