Yes, You Can Do All These Things in One Texas Hill Country Weekend
Texas Hill Country has been defined as an interesting mix of Texas tradition combined with different cultures from across the world all taking root in the center of the state. Heavily influenced by German immigrants, Hill Country has a vibe that you won't easily find anywhere else.
There are so many towns to see and things to see, you could spend an entire week making the tract through the area. However, New York Times travel writer Jeannie Ralston took a day and a half trip to the area and found these unique places to see on your next weekend visit.
Pedernales Falls State Park and Fredericksburg
Ralston began in Fredricksburg, about an hour and a half outside of Austin, with the exploration of Pedernales Falls State Park and the Enchanted Rock State Natural Area. The dome sits in the middle of amazing Hill Country views, if that's not enough it's actually a rock formation made out of pink granite.
While you are here, stop in downtown Fredericksburg. The German influence is seen, and tasted, in the area shops, restaurants and cityscape. Ralston suggests trying Lincoln Street Wine Market, the wine bar boasts a selection of 300 different kinds of wines ranging in price from $20 to $500.
But before you head to Fredericksburg, make a stop in Llano at Cooper's Old Time BBQ and try the pork chop or one of the many other choices guests can help themselves to in the BBQ pit. The best part? Once you return home and crave some Texas BBQ, simply visit Cooper's website and they will be happy to ship it to you.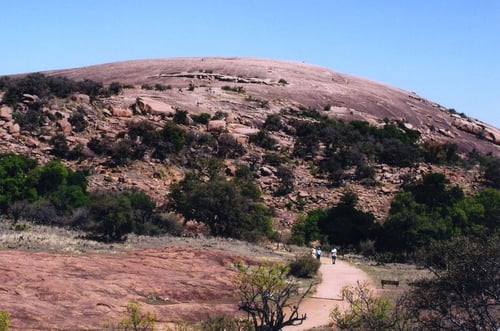 Image Source: Summit Post
Blanco
Possibly not the first town that comes to mind when planning a visit to Texas Hill Country, but if you are a True Grit fan or just like the feel of a cowboy town, then this should be on your itinerary. The town was settled by Texas Rangers and their families, and the Coen brothers used the town's courthouse in their adaption of Charles Portis' famous novel.
The Blanco Town Square is filled with antique stores and you'll find several restaurants in the area as well. Ralston suggests trying the Redbud Cafe for food and grabbing a beer at the local brewery, Real Ale Brewing Company.
Hill Country Top Two Wineries

A visit to Texas Hill Country is never complete without trying a few, or more, of the local wineries. Becker Vineyards is located in Stonewall and has been making wine for 20 years. In addition to great wine offerings Becker Vineyards has 4000 plants located on the property. Grape Creek Vineyards is located in Fredericksburg but feels like you've stepped onto the grounds of a vineyard in Tuscany. However, Grape Creek Vineyards is not just a facade of beautiful Italian decor; they are known for the many awards they have won.
Image Source: Vintage Texas - Texas Wine & Beyond
After one visit to Texas Hill Country, you'll want to stay. At Vintage Oaks we offer homes, homesites and many amenities that fit any lifestyle from growing family to retiree. Download our Hill Country Real Estate Buying Guide and let us help you make Hill Country your next home.