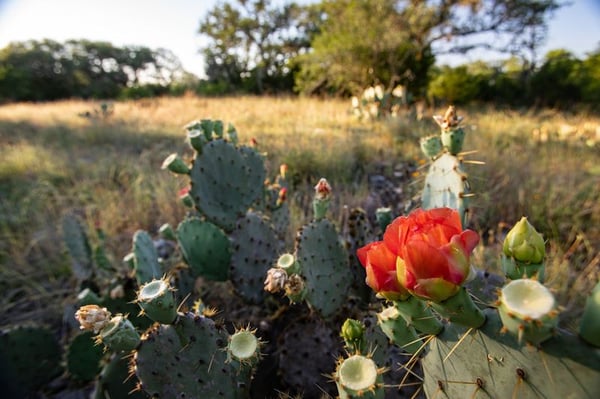 Texas remains one of the most popular states in the nation for those who are relocating. Driven by factors including the weather, the economy and strong job markets, the vast land and home opportunities, and the welcoming environment, people move to Texas from all over the country, and the world. Should you move here, too? We're breaking down the pros and cons of living in Texas.
Weather
Every state has its own particular breed of interesting weather, and you'll definitely find some in Texas. While so many people suffer through freezing winters, Texas enjoys relatively temperate weather during this season. Warm summers are also attractive for a growing number of retirees looking to build their forever home or explore living in Texas.
Population growth
Texas has many of the fastest-growing cities across the country, which can be a con for someone looking for total serenity (And, in that case, may we recommend one of the state's more rural areas?). New Braunfels is currently No. 2 on the list of the nation's fastest-growing cities. That's exciting for buyers in popular masterplanned communities like Vintage Oaks, because it means that buyers get the juxtaposition of a warm, serene, and welcoming area with much-appreciated amenities like shopping and restaurants.
Economy and jobs
Texas leads the country in unemployment, while job gains remain strong. "Texas added 240,500 seasonally-adjusted jobs in 2017," said the Dallas Morning News. Gus Faucher, chief economist for PNC Financial Services Group, said: "the state is positioned to continue beating national employment numbers." And the Wells Fargo Economic Group report said: "That Texas' job growth is gaining steam bodes well for potential job gains in 2018, which contrasts many parts of the nation where job growth is decelerating."
In a recent study conducted by Wallet Hub, numerous cities in Texas made the list for best cities for employment nationwide. The North Texas city of Plano was No. 2 overall and ranked fourth in the "job market" category. Garland was No. 17 overall and No. 9 in the "job market" category, Dallas and Austin were No. 21 and 22, respectively, and Austin was first for the lowest overall unemployment rate. It's yet another accolade among a long list for Austin, a city that has become so popular it has become unaffordable for many people and too crowded for many others' liking. This has driven many to explore the Hill Country, "a growth corridor that is expanding more rapidly than any other in the nation," said Forbes. "The area is home to three of the 10 counties with more than 100,000 residents that have logged the fastest population growth in the country since 2010. In fact, there is no regional economy that has more momentum than the one that straddles the 74 miles between San Antonio and Austin. Between these two fast-growing urban centers lie a series of rapidly expanding counties and several smaller cities…that are attracting residents and creating jobs at remarkable rates."
Texas' vast land and home opportunities
It's no surprise that people from states like California and New York would be drawn to living in Texas, where land is abundant and home values have been far more stable than in other states. Forbes said the area between San Antonio and Austin has "some of the very nicest land in the state of Texas, attracting a growing coterie of wealthy boomers seeking rural retreats." Beyond wealthy boomers, a range of buyers, from first-timers to growing families to military to retirees are drawn to the Hill Country.
For more information about living in Texas, visit Vintage Oaks. This 3,900-acre masterplanned community offers an array of land and homes for sales and resort amenities including multiple pools, a lazy river, miles of trails, playgrounds, sports courts and ball fields, a brand-new Fitness Club coming in 2018, and the Tuscan Clubhouse, home to year-round activities and special events.
You can also learn more about the fast-growing city of New Braunfels below.