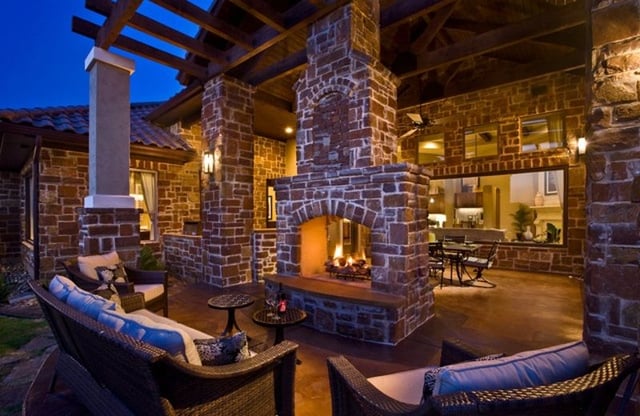 The weather in Texas can be unpredictable, but during the winter, falling temperatures are a given. And that can mean higher heating bills when you live in the Hill Country. When 45% of the average household's energy bill goes to heating, according to the Department of Energy, looking for easy ways to cut back while still remaining comfortable is key.
1. Switch your fans
This is one of the easiest tricks for saving energy, and a few bucks, in your Ranch Country home this winter. Those ceiling fans you thought only helped keep the temperature pleasant when it's hot outside can actually do the same in the cold. Check for a switch on the unit. When you flip it, the direction of the blades changes so they actually push the warm air down into the room. "Counterclockwise rotation produces cooling breezes, while switching to clockwise makes it warmer," said Popular Mechanics. "Air pooled near the ceiling is circulated back into the living space—cutting your heating costs as much as 10 percent!"
2. Change your filters
This is a task some of us may not do often enough. "Energy Star suggests changing your air filter every month, especially during the winter and summer months, when your HVAC unit gets the most use. At the bare minimum, don't let three months go by without swapping your dirty one out for a new one," said Angie's List. Changing them out often helps your HVAC system to run more efficiently, which can can help it last longer. It also improves the air quality in your home and saves energy. "The Department of Energy says the average household spends about $2,200 a year on its energy bill. When you consistently change your air filter, you can save from 5 to 15 percent on your utility costs," they said.
3. Check for leaks
Even a brand-new Hill Country home may not be completely air tight, and one that's a few years old may have leaks that have emerged from normal ground movement. Whether you're planning to stay in your house for years to come or are looking to buy a new home in the Hill Country and want to save a few bucks, addressing the air that's escaping—and being let in—can help. Up to half of the heated and cooled air "leaks out of the home," said GE. "Air sealing is an easy DIY task that can save money and energy, and help the environment all at the same time. It could save a homeowner up to 14 percent on home heating and cooling costs—equaling annual savings of up to $150." If air is getting in or out, a few easy fixes can take care of it:
Weather stripping around windows can zap any little leaks in minutes. Lowe's has a tutorial that points out the supplies needed and provides a step-by-step guide.
4. Use your windows efficiently
Letting the sun shine in during the day can help heat your Hill Country home naturally. Open the window coverings on south-facing windows for some daytime free heat, but protect the home against heat loss through windows when the sun's not out. Beyond weatherstripping, consider insulated drapes, which can help keep the cold out. If you're currently building a custom home in the Hill Country (or looking to), choosing the right windows is important. "Dual-pane insulating windows help keep the heat in during winter," said Houzz.
5. Don't use the exhaust fans
You probably don't think much about flipping on the exhaust fan when you're cooking dinner or taking a shower, but did you know that one little action could be costing you money? "An exhaust fan blows the warm air in your house outside, dropping the temperature of your home as that air is replaced with cooler air," said The Simple Dollar. "Even worse, exhaust fans are usually blowing out moist air, which does a better job of holding the temperature."
6. Lower the temps
Everyone wants it toasty at home in the winter. But lowering the thermostat just a little could make a big difference in your heating bill. Do it while everyone's out of the house at work and school, and you won't even be there to notice!
"According to the U.S. Department of Energy, you can save about 10 percent per year on your heating bills by turning your thermostat down 10 to 15 degrees for eight hours," said US News. You can also lower the temp on your hot water heaters, too. Setting it to "normal" or 120-degrees Fahrenheit can save you 7–11 percent on your water heating cost.
7. Only heat the rooms you use
Closing vents in unused rooms and keeping the door closed reduces the amount of space you're heating.
Want more information about living in the Hill Country? Visit Vintage Oaks, the fastest-growing community in the area for the past three years. Vintage Oaks is ideally located right on the Texas Wine Trail between Austin and San Antonio and offers Hill Country land for sale plus custom and semi-custom homes and an array of resort-style amenities including multiple pools, ball fields, walking trails, and a Tuscan Clubhouse.
You can also click below to see new homes that are now available.