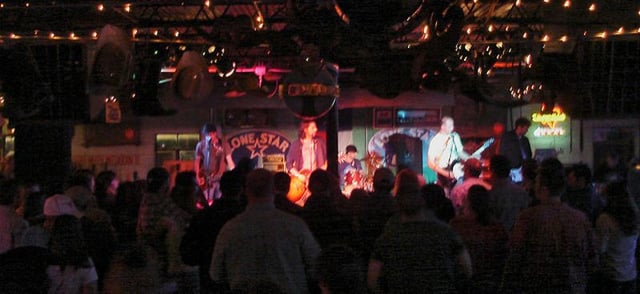 The second season of the Vintage Oaks Summer Concert Series is in full swing, with popular alt-country band Micky and the Motorcars coming to put on a show at Timber Ridge Park on Wednesday, June 22. You're invited to join Vintage Oaks for an exciting evening of live music, dancing, eats and treats, and great company starting at 6:30pm.
The Vintage Oaks Concert Series has proven to be one of the favorite Hill Country events, and the park fills up with excited residents and guests spanning all ages. Don't forget to arrive early for the best seats on one of the park's benches or tire swings, or out on the lawn, where revelers spread blankets and chairs. Food trucks will be selling some tasty fare and the event is BYOB! Space is limited so please RSVP today.
It's all in the family for Micky and the Motorcars. Band members Micky and Gary Braun are the younger brothers of Willy and Cody Braun of Reckless Kelly, the band that packed the park to kick off this year's series. Micky & the Motorcars is expected to do the same, bringing their unique alternative-Texas country sound developed in Austin to New Braunfels for this special show. The band has released five well-received albums and has been featured in Rolling Stone.
Whether this will be your first time enjoying one of these great community events at Vintage Oaks or were a part of last year's concerts featuring favorite artists such as Jack Ingram, Shinyribs, and Deryl Dodd, you're bound to have a great time during this special evening.
The Summer Concert Series has given Vintage Oaks residents and landowners another reason to appreciate calling the fastest-growing community in the Hill Country home and area residents and guests the opportunity to see what all the Vintage Oaks fuss is about. Hill Country events take place all year round at Vintage Oaks, giving those who live here great opportunities to enjoy the on-site amenities and mix with neighbors.
The community offers a Tuscan clubhouse, multiple pools, a lazy river, and ball fields. Timber Ridge Park is the newest amenity at this New Braunfels masterplanned community (and also the hottest new Hill Country live music venue), featuring some of the area's most beautiful scenery and ample space to run, play, relax, and, of course, dance. The 23-acre park offers its own system of trails that connect to the 3.5 miles of existing community trails at Vintage Oaks, along with a new wildflower field, a grove of heritage oaks, a commemorative stone pathway that honors veterans, and vast Hill Country views.
For more information, visit Vintage Oaks or click below to RSVP.