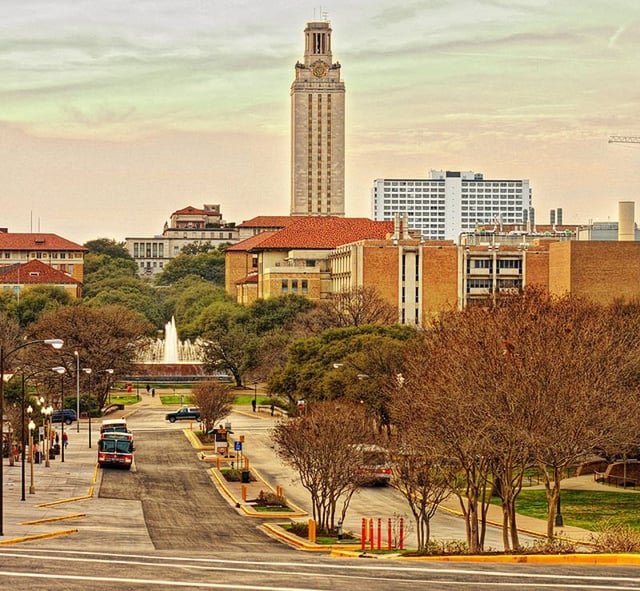 The new Milken Institute Best-Performing Cities report has been released for 2016, and Austin and San Antonio continue to be singled out as two of the top cities in the country. Austin was No. 4 on the Milken Institute's list and San Antonio was No. 10, proving again that living in Texas has numerous advantages.
"What drives the economic momentum of the most dynamic metros in the United States? The Milken Institute's annual Best-Performing Cities report identifies the latest trends and most relevant factors powering regional growth," they said. "Our index uses a comprehensive, fact-based set of criteria to rank the nation's metropolitan areas."
That index specifically measures employment growth, salaries, and "technology output over five years (2009-2014 for jobs and technology output, and 2008-2013 for wages and salaries)…and also incorporates the latest available year's performance in these areas (2013-2014 for jobs and technology output, and 2012-2013 for wages and salaries). In addition, it includes a measure of 12-month job growth (August 2014-August 2015) to capture recent momentum among metropolitan economies."
Also factored into the equation is a measurement to figure how "knowledge-based" each economy, based partly on how many high-tech fields are concentrated in the area. By that scale, it's not surprising that Austin and San Antonio rated so highly. These two dynamic cities have been repeatedly recognized as tech incubators—just one of the reasons they are also each repeatedly on the list of fastest-growing cities in the nation.
Austin's strengths, according to the Milken Institute, are:
Diversification—growing opportunities in leisure and hospitality, biotechnology, and social networking. "Leisure and hospitality services employment was up 6 percent for the 12 months ending in August and by one-third since 2010."
The second fastest job growth in the nation over the past five years
39.4% growth in professional, scientific, and technical services jobs from 2010 to 2014. "In 2014 alone, 7,100 jobs were created, a gain of 9.3 percent and the largest number in any industry sector."
Retention of local graduates from the University of Texas—"the highest net in-migration relative to its population in the nation"
Population growth that was four times the national in 2014 at 3%
Continued housing demand "despite prices rising at an 8% year-over-year pace in recent months"
Commercial construction growth and absorption
San Antonio's strengths, according to the Milken Institute, are:
"Relatively affordable housing makes San Antonio appealing to workers seeking to relocate"
Consistent job growth during the last five years
Wage growth of 9% from 2008–2013 that bested the nation as a whole
Expanded local operations in the back-office and customer-service operations with growth in industries such as insurance—which grew "by 32% over the five years ending in 2014, adding more than 7,600 jobs over this period, more than in all but one of the metros nationwide"
Administrative and support services employment growth that's up by 20% over last five years, "gaining 4,700 jobs in 2014 alone"
"Growth in consumer-facing sectors such as general merchandise stores, which added 2,100 jobs in 2014, and food services and drinking places, which added 2,000 jobs in 2014"
Growth in New Braunfels
The San Antonio metro area includes New Braunfels, and growth in this smaller, but every bit as dynamic, city has been among the most impressive in the state for several years. New Braunfels is the 13th fastest-growing city in the nation and is projected to grow another 36+ percent in the next 15 years. The city gained almost 2,000 jobs last year, and thousands more are expected to come to the area in the coming year with Amazon building a new 855,000-square-foot fulfillment center; HEB building a $14 million HEB Plus, and several other companies expanding their local workforce.
The city's population growth is driving New Braunfels real estate sales, and home prices in the region are up 5.3-percent, while inventory is way down. Hill Country real estate buyers are increasingly looking to buy land in New Braunfels to build a custom home in the Hill Country. A favorite spot is Vintage Oaks, a masterplanned acreage community and the fastest-growing community in the Hill Country.
Vintage Oaks' location on the Texas Wine Trail between Austin and San Antonio draws those who are looking to buy property in the Hill Country with a range of homes and homesites in gated and non-gated areas and enjoy resort-style amenities right in the community.
For more information, visit Vintage Oaks or click below to download the free Hill Country Real Estate Buying Guide.