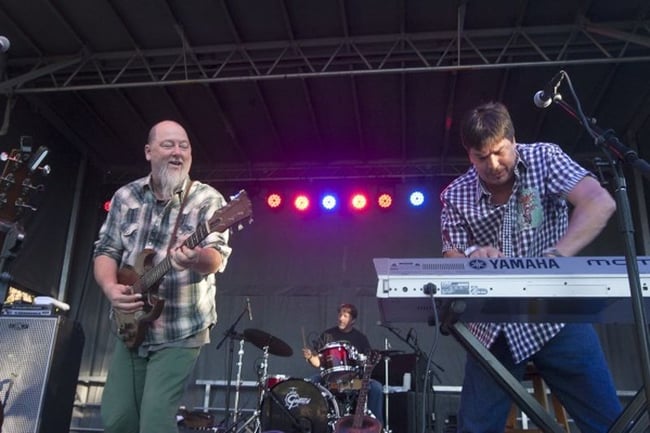 Summer travel hits its peak in July, but for many of us, staying close to home and enjoying all that the Hill Country has to offer is the more desirable choice. Good thing New Braunfels events are plentiful this month—and many of them celebrate the area's rich musical history and live music center.
Free Concerts
New Braunfels Parks and Recreation presents free concerts at the Landa Park Dance Slab all month.
Original rock and blues from Kori Free & The Groove Hounds on July 9
GRISSOMHILL on July 16
Slim Bawb and the Fabulous Stumpgrinders, July 23
Numinous featuring Luke Leverett on July 30
For more information, visit their Facebook page.
Live Music in the Great Outdoors
Catch even more live music in the open air at Lazy L&L Hall all summer, featuring live music every Friday and Saturday night.
Austin hasn't cornered the market on bat flights. "Be there as millions of free-tailed bats spiral out of Bracken Cave and take to the skies on their nightly hunt for insects, in a truly awe-inspiring reminder of how amazing nature can be," at Bracken Cave near Natural Bridge Caverns. Flights and tour packages offered several days per week.
Make Wine at Home
Looking to learn the art of winemaking? You're in good company! Dry Comal Creek presents Winery U, with information on making wine at home and wine tasting, on July 11 from 10:30am to 1:30pm.
2tarts Bakery's Anniversary
On July 12, 2tarts Bakery celebrates its fifth anniversary with a day of music, activities for kids, a pie-eating contest, and a cupcake bake off. Festivities are going on all day from noon to 6pm.
Two Tons Tuesday
The Hill Country is the place for live music almost every day of the week, and on Tuesdays, Gruene Hall is the place to be for rockabilly music and dancing with Two Tons. Doors open at 7:30pm—and you'll want to show up early for swing dancing lessons!
Shinyribs Concert
Timber Ridge Park at Vintage Oaks will present the "hip-shaking, belly-laughing, soul-singing, song-slinging, down-home house party" that is Shinyribs on Tuesday, July 14 from 7:00pm to 9pm.
Gruene Market Days
Spend a day in Gruene and gather up some great finds at this monthly outdoor market in the heart of historic district. July 18–19, from 10am to 5pm.
An Evening with Singer/Songwriter Larry Gatlin
The Brauntex Performing Arts Theatre is the site of a special Evening with Singer/Songwriter Larry Gatlin, as the Grammy winner performs hit songs on July 25 at 8pm.
Pat Green and Kevin Fowler
Grammy Award-winner and music legend Pat Green joins country rebel Kevin Fowler for a show at New Braunfels' Whitewater Amphitheater on July 25. Get more information here.
Mayhem Festival
It's a hard rock dream come true on July 31 at the Whitewater Amphitheater presents Rockstar Energy Drink Mayhem Festival with Slayer and King Diamond.
For more information, visit Vintage Oaks or click below to RSVP for the Shinyribs concert at Vintage Oaks next Tuesday!.