Pay More, Get More for These New Home Features
It can happen to anyone. You sit down to create a budget for your new home, and it seems reasonable. You think you have your entire list accounted for, but things you must have keep coming up. How do you know what new home features are worth the investment? Trulia helps navigate through the ever-growing list of additional features you could add to your home.
The Upgraded Outdoor Living Space
One of many perks to living in Texas is the ability to enjoy the mild climate almost every month of the year. Splurge on the additions that can make to your backyard a beautiful extension of your living area. Floor to ceiling sliding doors or accordian windows can cost more but they give you the ability to fluidly combine your kitchen or common space with your outdoor living area.
A custom outdoor fireplace coupled with an outdoor kitchen can be enjoyed year-round. Builders can even add a brick oven to the space, now you'll be able to take pizza night outdoors. Upgrade all your surfaces in this backyard living area; pass on plain concrete on the ground and instead invest in outdoor flooring that will give the entire space a finished look.
The First Impression of Your Front Door
Your front entry should be anything but standard, especially when it comes to a beautiful new home. A customized front door is a special detail that can really set your home apart. There are many companies that specialize in the creation of only doors. You can consider this an investment in your home, custom doors are almost always handmade, giving them a longer durability because they are made with finer materials.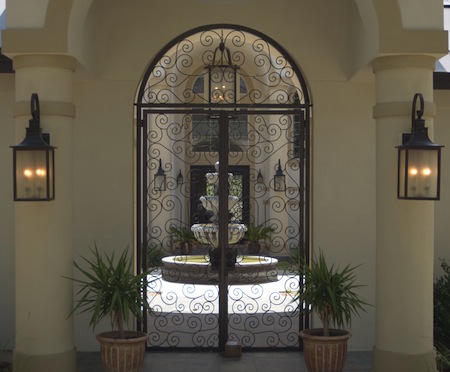 The Kitchen
Your vision for a luxury kitchen might be appalling to the next owner. The splurges on home features that you should consider are surface deep. Upgrade when it comes to cabinet materials, counter tops and flooring. A large, custom island might seem important but could be a burden for the next owner. Most importantly, upgrade your appliances, the newest and best are always something that you will enjoy and find worth in.
At Vintage Oaks, we feature the best in premier builders that Texas can offer. With so many builders to choose from, we're sure you'll find someone that's a great fit for your list of desired new home features. Download our Guide to Building Your Home in Texas Hill Country and see how easy we can make it to build your dream home.