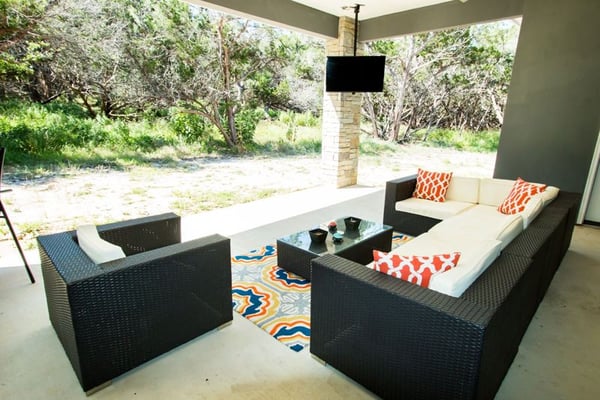 Vintage Oaks' Community-Wide Open House, on Saturday and Sunday, Oct. 24–25 from 1–4 p.m., is a great opportunity for fans of the community or those who are seeking more information about living here to tour 12 move-in-ready homes at once as well as the resort amenities. And, you'll have a chance to enjoy two special concerts on Saturday afternoon at the new Timber Ridge Park to get a taste for what Vintage Oaks life is really like.
Buyers will want to make sure they take advantage of this unique chance to see so much of what the community has to offer at one time and tour homes that are ready now. Having questions ready to go will help you to key in on what's most important to you in a Hill Country home and learn all you can about the fastest-selling community in the Hill Country. Here are a few home buying tips to keep in mind:
1. How do I find the Open Houses?
Community maps with home locations will be available at the Vintage Oaks Sales Center during the two-day event. If there are a couple of homes you want to focus on, a sales professional can help show you where they are on the map.
2. Are there specific times when amenities tours are being held?
The resort-style amenities will be open during the Open House and can be toured any time during those hours. You will receive a clubhouse access pass with your community map at the Vintage Oaks Sales Center. The sales professionals can also answer any specific questions about the use of the amenities.
3. What if I have specific homes I want to see and don't want to go to all 12 that are open?
Deciding which homes to tour is entirely up to you, but your sales professional can help you key in on those that might best suit your needs.
4. What are the development plans for the community?
A good home buying tips is to ask about development plans for the future of the community. You may also want to know about any upcoming neighborhood releases. The newest neighborhood release in Vintage Oaks is Deer Creek offering 1+ acre homesites that back up to a private ranch.
5. Will there be more homes or other structures built in any of these neighborhoods?
You'll definitely want details about Vintage Oaks neighborhoods when you are considering buying a home.
6. Are some locations better than others?
That all depends on your idea of what a good location is. Some people want to be in the center of everything while others prefer a more private setting. Touring the homes can help clarify which work best for you, but a sales professional can also help shed light on the particular features of the locations.
7. Are the move-in ready homes custom or semi-custom?
Both! The sales professionals can point out which ones are which.
8. How soon can I move in?
The 12 homes open for tours are all move-in ready. The sales professionals can be more specific about timelines, but exact move-in dates will be determined by your loan and escrow period. Learn more about buying a home during Winter.
9. Is there only one of each of these homes?
Each home on the tour is unique and there is one of them currently available as a move-in ready home. Some of the semi-custom homes on the tour are offered in The Reserve and can be purchased and built from scratch. The sales professionals can point out them out and give you more information.
10. What if I love one of the homes but I want to make small changes or build it in a different location?
Ask a sales professional to tell you more about The Reserve's semi-custom homes or about custom home opportunities in other areas of the community.
11. Will there be more of these same homes built?
In some cases, the homes are part of the pre-selected floorplan offerings in Vintage Oaks' The Reserve neighborhood and can be built again in another location. If the home you want was custom built, a sales professional should be able to put you in touch with the builder.
12. Are there other homes in the community?
A sales professional can also tell you about existing homes.
13. Is the process of buying land different than buying a home?
A sales professional can provide detailed information about buying land and building a home at Vintage Oaks.
14. Do I need to have financing in place to buy these homes?
Vintage Oaks is one pace for another record-setting year. Interest in these move-in-ready homes is fierce, so serious buyers will want to be ready to buy if there is a home in which they are interested. A sales professional can provide more information as well as refer you to preferred lenders during the Open House.
15. What are the taxes and POA fees?
The Open House is a great time to get any financial questions answered.
16. How long does it typically take to build a custom home?
This depends on the home and the builder, but a sales professional can give you a general timeline.
17. Who are the builders of these move-in ready homes?
Vintage Oaks partners with some of the finest Hill Country homebuilders. Your sales professional should be able to give you specific builder information about the houses you're interested in.
18. What makes Vintage Oaks so popular?
You're bound to see why during the Open House, but be sure to ask your sales professional for even more reasons.
19. If I haven't RSVP'd for the concert on Saturday, can I still go?
Of course! Learn more about the concert here and RSVP today!