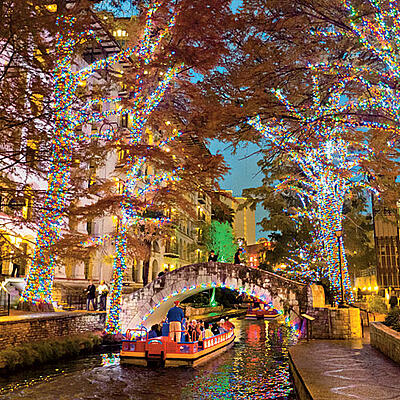 San Antonio, a short drive from Vintage Oaks, has a variety of holiday celebrations you and your family can enjoy this holiday season. Visit San Antonio made a list of holiday activities to get you in the Christmas spirit.
All of the Lights
Light the Way
takes place from November 22 to January 6. Almost a million lights clad the University of Incarnate Word campus beginning with "A Cardinal Christmas" on November 22 at 7:30 pm.
Holiday Parade
is November 28 at 7:00 pm. At the parade, lights illuminate the River Walk and decorated floats drift down the river in one of the only nighttime river parades.
Alamo Helicopter's Holiday Lights Tours
lets you enjoy San Antonio's holiday lights from above.
Ford Fiesta de las Luminarias
provides holiday serenity along the River Walk lit by over 6,000 Luminaries that mark the "lighting of the way" for the Holy Family. This event begins at dusk every Friday, Saturday and Sunday in December.
Tamale Making
Tamales at the Pearl
has taken place since 2010 as part of the Tamales! Holiday Festival at Pearl. Located along the River Walk, this event offers tamales from more than 40 vendors, live music and family fun.
La Tamalada and Time Travel Saturday: South Texas Holiday Traditions at the Witte Museum
located at the La Tamalada. This workshop on December 13 lets you flavor and make your own tamales. Then you are invited to join more fun with Time Travel Saturday: South Texas Holiday Traditions.
La Gran Tamalada
is an annual tamale making community party with community tamaleras and San Antonio storytelling. This event takes place on December 14.
Mariachi Vargas Extravaganza
takes place November 16 to November 22. It is the longest running mariachi music festival in Texas and the largest mariachi competition in the U.S.
"Top Shopping Destination in the Nation"
Get your holiday shopping done at Forbes "Top Shopping Destination in the Nation" at one of San Antonio's shopping malls, boutiques or outdoor markets.

Hecho a Mano is launching a new Hecho a Mano Boutique at the Guadalupe Cultural Arts Center from November 15 to December 20. It will include tradition and contemporary art from local, regional and national visual artists.

Cowboy Christmas at Enchanted Springs Ranch invites you to experience the "Old West' with a cowboy Santa on December 20 and 21.

New Year's Celebration/Celebrate San Antonio takes place on December 31 and includes fireworks, live music, food booths and family activities.

Whether you see the historic streets of San Antonio or walk the famous River Walk lit up with millions of lights during the holiday season, San Antonio has plenty of events your family can turn into holiday traditions for years to come. For more information on living in the Hill Country, download our Guide to Buying a New Home by clicking below.