New Braunfels' won, Schlitterbahn Park was named Best Waterpark for the 17th straight year by the Amusement Today's 2014 Golden Ticket Award. Schlitterbahn's other locations, in Galveston and Kansa City, also received top honors for Best Indoor Waterpark and Best New Waterpark Ride, respectively.
The awards are evaluated and given based on surveys from experienced and well-traveled amusement park enthusiasts. According to the Houston Business Journal Morning Edition, the Golden Ticket Awards have been featured on the Discovery Channel and the Travel Channel. You can see the full list of winners at Golden Ticket Awards.
We recently published an article of 6 tips to avoid crowds at the popular water park, located just minutes from Vintage Oaks. Planing ahead and selecting a less popular day or weekend can help lessen stress
The water park is open until September 21, but the Resort at Schlitterbahn is open year round.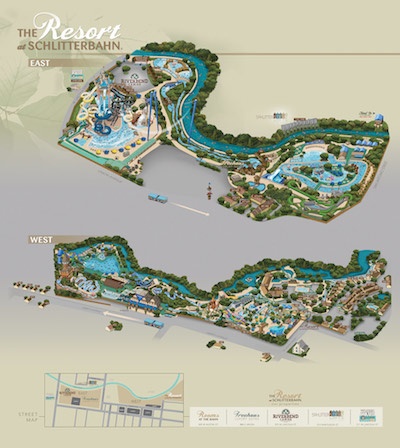 The Resort at Schlitterbahn Area Map
The Resort has many activities, even after the park has closed after the summer season …
Heated pools: West Wing, Gator Bowl, Boogie Bay, Bamboozle Bay
Sand Volleyball court
Horseshoes
Washers
Ladderball
Hiking and fishing
BBQ pits and picnic areas
Living in New Braunfels has many benefits. From the central Texas Hill Country location to the rich culture and history of an old Texas town, the area is home to some great traditions, activities and neighborhoods. The residents at Vintage Oaks have the luxury of making frequent trips to Schlitterbahn and other area attractions.