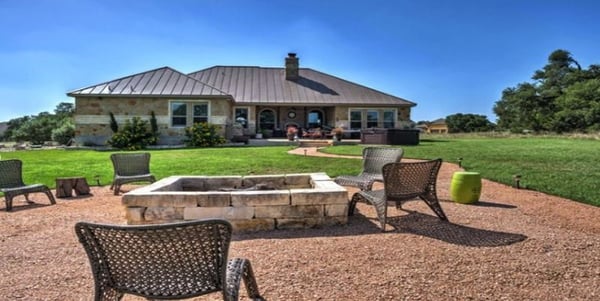 If you're thinking of buying Texas Hill Country homes for sale or building a custom home and have never heard of Ranch Country architecture, you soon will. While there are a variety of styles and influences throughout the area, expect to see extensive stone, especially Texas limestone, as well as high ceilings and rustic beams on the interiors. These are just a few of the popular features of South Texas home designs.
"When you think of Texan architecture, the mansions of Dallas or historic Spanish-style villas might spring to mind, but the state's architecture actually contains a variety of styles and designs by some of the country's top contemporary architects," said Architectural Digest.
An equally wide array of design styles can be found in South Texas, especially in Texas Hill Country homes for sale, led by a common inspiration. "Hill Country architecture is often used to describe a dressed up sort of farmhouse style," said Modern Austin. "But the architectural styles of the Hill Country, the area of Texas between San Antonio and Austin, are profoundly influential and subject to wide interpretation."
In fact, Texas Hill Country homes for sale can range today from adapted farmhouses to modern showpieces to "the old masonry buildings of the German immigrants who settled the area we now think of as Hill Country," they said. "The building style merged with the agrarian vernacular of deep overhangs and low sloped metal roofs."
Historically, architecture in the area utilized local materials, with "limestone and sandstone buildings (that) were sometimes whitewashed. Today, Hill Country architecture in a general sense contains identifiable materials," they said. "Limestone and wood are used for construction as well as ceilings and floors, countertop and cabinets. Steel structures, pipe columns, and seamed metal roofs are distinct components but as (influential Austin-based architect) Jay Hargrave points out, 'The original buildings were more visceral, rougher, made of fieldstone and not streamlined into a ranch style layout. Modern Hill Country style takes these elements and does more with them, adding commercial style windows, for instance.'"
Regardless of what comprises the architectural materials of these Texas Hill Country homes for sale, the effect of—and on—the landscape is undeniable, and the windows are key to the experience. When building in a scenic location like New Braunfels, especially in a masterplanned community like Vintage Oaks, custom home builders incorporate multiple windows to take best advantage of the spectacular views.
"Perhaps the most significant contribution of Hill Country architecture is in highlighting the relationship between the buildings and the landscape, in the sense that the modern interpretations of Hill Country style are related to the sites upon which they are located, in the Hill Country," they said.
For more information about Texas Hill Country homes for sale, visit Vintage Oaks. This New Braunfels masterplan is the fastest-growing community in the Texas Hill Country for the fifth straight year and the fifth-most active and successful community in all of San Antonio. It is also the No. 1 community in New Braunfels; the top-selling community selling homes from $350,000–$2,000,000; and No. 1 in large lot communities in all of San Antonio for housing starts. The Vintage Oaks masterplan features 1–14 acre properties in both gated and non-gated neighborhoods plus Quick Move Homes and new smaller-lot homes in its popular community of The Grove. Resort amenities include multiple pools, a lazy river, miles of trails, playgrounds, sports courts and ball fields, a brand-new Fitness Club coming in 2018, and the Tuscan Clubhouse, home to year-round activities and special events.
You can also see Featured Quick Move Homes below.