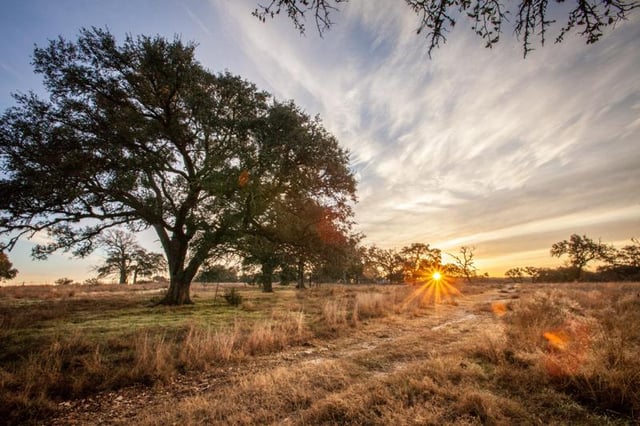 A new season of Vintage Oaks Summer Concerts will kick off with a live performance by Adam Hood on Wednesday, May 17. The music is set to begin at 7pm, but, if the past popularity of this event is any indication, you'll want to get here sooner to claim a great spot on the lawn, on one of the benches, or under the oak trees. You can RSVP for the Adam Hood Concert here. Vintage Oaks will also be holding a special Builder Meet & Greet for its new neighborhood, The Grove, before the concert. Stop by the Wine Room at the Clubhouse from 5:00pm to 7:00pm for beer, wine, hors d'ouevres and to meet the builders. Email to RSVP for the Meet & Greet.
Concert
The Vintage Oaks Summer Concert Series has become a favorite Hill Country event, with residents and friends coming together for great live music, dancing, and tasty food for purchase from top food trucks. Numerous popular artists, including Bonnie Bishop, Micky and The Motorcars, and Reckless Kelly, have played at the community's Timber Ridge Park, which fills up with enthusiastic music lovers.
A very popular artist throughout Texas, Adam has released four acclaimed albums and has toured with both Willie Nelson and Leon Russell after being discovered by Miranda Lambert while he was performing in Gruene in 2007. Fans of his music, described on his fourth studio album, "Welcome to the Big World," as ranging from "roadhouse rock to Kris Kristofferson storyteller folk, with a mix of timeless two-step shuffles," will love the opportunity to see him play live in such a beautiful setting.
The Vintage Oaks Concert Series has proven to be one of today's favorite Hill Country events. You'll definitely want to RSVP and get here early.
Builder Meet & Greet
Construction is underway at The Grove, Vintage Oaks' newest neighborhood, with model homes being built and the planned Fitness Club exciting homebuyers and current community residents, alike.
The Grove offers a new way of living at Vintage Oaks, with an array of single-family homes built by three of the area's most respected home builders on smaller, easier-to-maintain lots. Surrounded by 100 acres of scenic, open space, The Grove features its own dedicated entrance and access to all of Vintage Oaks' community amenities. The Future Fitness Club, scheduled to begin construction next year, is set to include a lap pool, locker rooms, saunas, a spa, an outdoor fitness area, and a flex room for fitness classes.
Click HERE to RSVP for the Builder Meet & Greet
For more information about living at Vintage Oaks, where new Hill Country homes at The Grove make living in the area's fastest-growing community for the past four years even better and Hill Country events are featured all year long, visit Vintage Oaks. Vintage Oaks is a 3,300-acre masterplanned community in the Hill Country that also offers acreage homesites in New Braunfels ranging from 1 to 14 acres in gated and non-gated neighborhoods. Resort amenities include multiple pools, a lazy river, ball fields and trails, and a Tuscan Clubhouse.