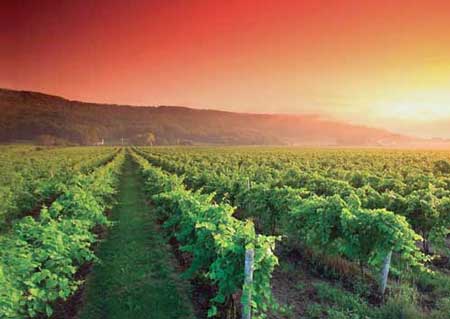 Among those who live in Texas, Hill Country wines are a great source of pride, not to mention a great addition to a meal. But what was once known only to locals has now developed a following across the country and internationally as well. Hill Country wineries and wines are no longer a Texas secret.

Photo Courtesy of Vintage Texas Blog

In 2014 alone, Wine Enthusiast named the Texas Hill Country "One of the 10 Best Wine Travel Destinations," several Hill Country wines were recognized with prestigious industry awards, and the Texas Wine Trail continued to be noted for its wine offerings and the spectacular scenery and atmosphere that has always captivated locals and visitors alike.

"Everything really is bigger in Texas: It's the No. 5 wine-producing state in the U.S., the Texas Hill Country AVA is the second largest in the nation and its most promising wines boast supersized flavors," said Wine Enthusiast. "But the explosion of new wineries and tasting rooms along scenic Highway 290 west of Austin hasn't lessened the Hill Country's old-fashioned country charm. It's still a sea of cowboy hats and pickup trucks, a place where you can sip award-winning wines in a landscape dotted with as many cacti as vines. Visitors may flock to the Hill Country to sip wine, but they end up drinking in the romance of the Old West, too."

Impressive Awards

Three Hill Country wines won double gold at the San Francisco International Wine Competition over the summer. This is considered one of the country's most prestigious competitions, featuring wines from all over the world. Double-gold "means every judge on the category panel awarded the wines a gold in this blind-tasted competition," said the Dallas Morning News. Double-gold winners included:
Becker Vineyards in Stonewall for its Texas Hill Country Mourvedre Rose 2013. This wine was also named the best rose in the competition.
Grape Creek Vineyards

in Fredericksburg for its 2012 Texas Cabernet-Syrah blend
Pedernales Cellars

in

Stonewall for its Texas Tempranillo Reserve 2012
Duchman Family Winery in Driftwood also won a gold for its 2011 Texas Aglianico.
Pedernales becomes a juggernaut
Pedernales Cellars' award for its Tempranillo continues the winery's hot streak. Their Viognier Reserve 2012 was also chosen in a blind taste test conducted by Texas Monthly as one of the Top 10 wines of 2013.
"Rich with ripe peaches, honey, and jasmine on the nose, this wine is a classic example of what a French Viognier should taste like," said Texas Monthly. "So much so that the French even gave it a Grand Gold Medal in the Lyon International Wine Competition. (The only U.S. winery to receive such an honor.)."
It was that "major coup" as the Dallas Morning New called it for eight-year-old winery Pedernales Cellars at the Lyon International Wine Competition that opened many an eye to Texas wines outside the state. The grand gold was the only one handed out to a U.S. winery out of 3,000 entries in the competition; Becker Vineyards' viognier won silver and Flat Creek Estate's won bronze in Lyon.
"These achievements underscore viognier's role as the other great grape story in Texas, the white muscle to tempranillo's red strength, said the Morning News. Count Wine Enthusiast another fan of Pedernales Cellars' 2011 Tempranillo as well as Flat Creek Estate's 2010 Syrah, and Bending Branch Winery's 2011 Estate Grown Tannat—"big, hearty reds" that benefit from Texas' hot summers, they said.
For additional information on Texas Hill Country Wineries, visit the Texas Wine Trail website. For more information on living right on the Texas Wine Trail in the Hill Country's fastest-selling masterplan, visit Vintage Oaks or download the Hill Country Real Estate Buyers Guide below.