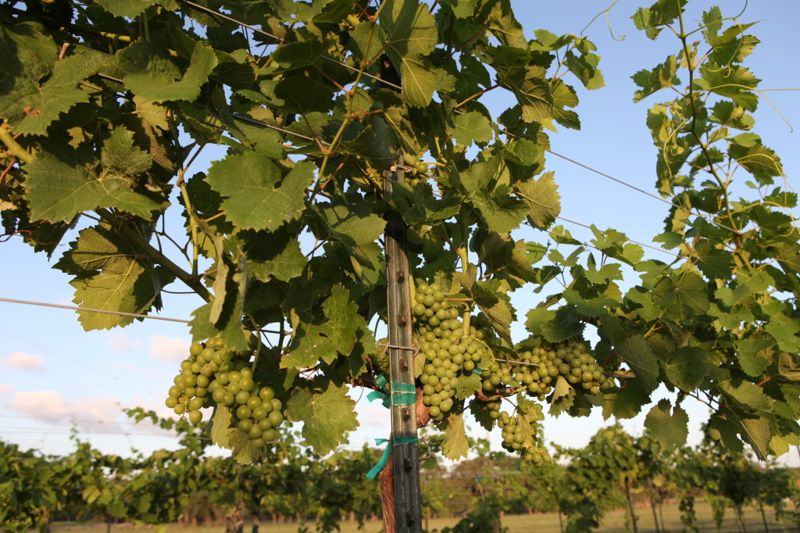 Texas Wine Month is in its 15th year of celebrating Texas-produced wine. To kick off Texas Wine Month, a wine panel which included 6 wine enthusiasts from Dallas News recently went looking for great Texas wines that are widely available in stores for less than $30. During the two-hour tasting the panel sampled 26 wines from new and seasoned producers. In the past ten years, the Texas wine industry has grown significantly as winemakers seek grapes that thrive in the Texas soil and heat creating new varieties of wine. Although some varieties may be unfamiliar to consumers, Texas wines continue to bring in awards at prestigious wine competitions.
Listed below are 5 Texas wines that made the list at Dallas News. Varieties include reds, whites and rose and cost less than $15. For a full list of featured wines Click Here.
Brennan Vineyards Viognier, 2012
$14.39 to $17.99
"rich and intensity of fruit"
Pairs well with pasta in cream sauce and salty bar snacks
Duchman Family Winery Vermentino, Bingham Family Vineyard, 2012
$13.88
"clean, crisp, delightful — and not overdone"
Pairs well with white anchovies or calamari
Becker Vineyards 'Les Trois Dames' Claret, 2012
$14.99 to $16.99
"savory, with nice fruit and sweet tobacco notes"
Pairs well with pork belly and barbecue dishes such a pulled pork
McPherson Les Copains Texas Red Table Wine, Lost Draw Vineyards, 2012
$11.99
"earthy nose and palate" & "iron-rich flavor"
Pairs well with a grilled rare steak, wild game and barbecue brisket
Becker Vineyards Provencal, Mourvedre, Tallent Vineyard, Texas Hill Country, 2013
$10.99 to $11.99
This dry rose won double gold at the 2014 San Francisco International Wine competition.
"strawberry, raspberry and tart cherry flavors; mouthwatering acidity and great texture." & "savory quality, soft texture and dry finish"
Pairs well with barbecued brisket, pork belly, pulled pork, scallops, sushi, spicy dishes and salad with bleu cheese
Below is a guide to understanding the information you might find on Texas wine labels.
Appellation: At least 75 percent of the wine is produced from grapes grown in the place names
Viticultural Area: At least 85 percent of the wine was produced with grapes from the names American Viticultural Area, a grape-growing region distinguished by geographical features. Texas has eight viticultural areas.
Texas: At least 75 percent of the wine is produced from grapes grown in Texas.
Texas Vineyard: 100 percent of the wine came from grapes grown on the named vineyard.
'For Sale in Texas Only' label: Between 25 and 74.9 percent of the wine is made with Texas grapes, and the wine can only be sold in Texas.
American: Less than 25 percent of the wine is made with Texas grapes.
Estate: Indicates the wine was made from grapes harvested on their own vineyard.
Texas Wine Month events include wine tours, wine tastings, and a wine trail. Vintage Oaks is located close to several Hill Country wineries and events that are the heart of Texas Wine Month so there is plenty to do!