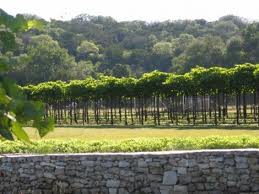 Have you bought your tickets for Texas Wine Month yet? This popular, month-long Hill Country event brings people from all over (and also outside of) the state to enjoy Texas wines, and tickets go fast. All during the month of October, special tastings and tours make this fast-growing wine region even more inviting.
"October is our favorite month here at Texas Hill Country Wineries because it is Texas Wine Month! We have been celebrating Texas Wine Month for 17 years and want to make this year's celebration the best," said the Wine Trail. "There are now 51 members who will participate in the Trail and all are very excited to help you celebrate this October."
Tickets are valid for the whole month and include "a full complimentary tasting at each winery with a limit of 4 wineries a day and a 15% discount on 3 bottle purchases at each winery," they said.
Also, as October is Breast Cancer Awareness Month, "$5 of each ticket sold for the Texas Wine Month Trail will be donated directly to Susan G Komen for the Cure.
About the Texas Wine Trail
CBS News did a report on Texas wines in 2015, mentioning the Hill Country and Texas wineries and reiterating what experts like Wine Enthusiast, who have said the Hill Country is one of the best wine regions in the world, have been exclaiming for years. "Everything really is bigger in Texas: it's the No. 5 wine-producing state in the U.S., the Texas Hill Country AVA is the second largest in the nation, and its most promising wines boast supersized flavors," they said.
Huffington Post went so far as to call the Texas Wine Country the "New Napa."
"With hours upon hours of sun and great soil, Texas Hill County has perfect growing conditions for varietals better known in central Italy and France's Rhone Valley," they said. "Today, Texas Hill Country is the second most visited wine tasting region in North American and top 10 in the world. Yet the region is just a fraction of Napa Valley with fewer than 50 vineyards and less than 300 in the entire state of Texas."
For more information about the wines of the Texas Wine Trail or to buy tickets for Texas Wine Month, visit the Texas Wine Trail. For more information about living in the Hill Country, visit Vintage Oaks. This New Braunfels masterplanned community offers Hill Country land for sale from 1 to 14 acres in both gated and non-gated neighborhoods, semi-custom and custom homes, breathtaking Hill Country views, and amenities including multiple pools, a lazy river, trails, ball fields, and a Tuscan clubhouse.
You can also click below to see new homes that are now available.