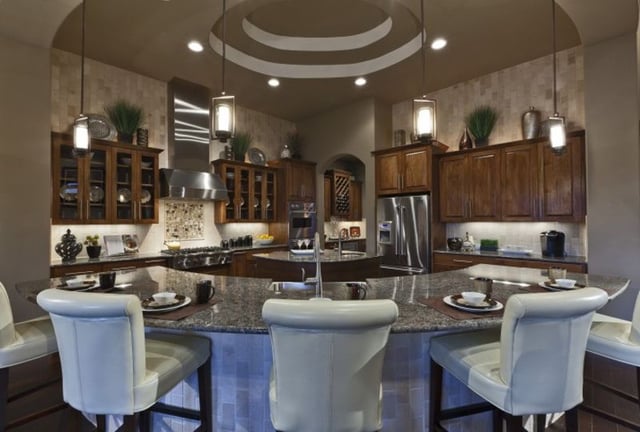 There are smart upgrades the experts recommend for your custom Hill Country home—things like highly amenitized kitchens, hardwood floors, and high-quality windows. But what about the furnishings? To create a home that lives as good as it looks and surrounds you in the amenities that match the custom design of your home, Elle Décor recommends buying "investment pieces." Whether this is your first home, your first custom homes, or your dream retirement home, investing in a few key pieces can make it even more special.
The right sofa
You may already have all the furniture you need, but if it's time for a refresh, think about the couch first. It can set the stage for a whole new style or color scheme for your custom home in the Hill Country. "The sofa is the most successful first choice to begin a design foundation," said Elle Décor. "The sofa truly is an anchoring point. Its style, color, and shape can help dictate the decisions that bring a space to life."
Artwork
Have you already built an impressive art collection? Now's the time to show it off in your custom-built home. If your art collection is still lacking, there's always time to add to it. Either way, designing your Hill Country custom home with gallery walls will give you the kind of space you want to display your favorite pieces—current and future.
A kitchen table
By now you probably already have Elle Décor's next recommendation: a kitchen table. Or maybe it's time to invest in a better one, plus a couple of barstools. After all, this is an opportunity to show off the kitchen of your dreams. Maybe that long counter-height island you've been thinking about or the peninsula that gives you extra seating for visiting family are calling out for some elegant but functional stools. And don't forget about the dining room. It just might be that your new space, specially designed to be large enough to host generations of family at the holidays, calls out for something grand. And won't it be fun shopping?
A good mattress
Moving to a new home is an ideal time to ditch your existing mattress and buy something brand new. Especially if you've had your mattress for some time, have trouble sleeping, and/or you have intermittent or chronic back or neck pain, buying the right mattress can be key to your everyday comfort. "Taking the time to research mattresses, find one that's right for you, and investing in it can make a huge difference in your sleep quality: You'll sleep soundly and wake up feeling more refreshed. That alone is worth the price," they said.
A quality rug
Putting in gleaming new hardwoods in your custom home? Adding throw rugs in key areas can help add warmth, keep your new floors in good shape in high-traffic areas, and add a touch of style. Plus, "A good rug will stay with you forever," they said. "Whether you prefer Persian or geometric, investing in quality will pay off for years to come."
For more information about building a custom home in the Hill Country, visit Vintage Oaks. This New Braunfels masterplan is the fastest-growing community in the Hill Country for three consecutive years, offering a range of Texas acreage property for sale, resort amenities including multiple pools, a lazy river, sport courts and ball fields, and trails winding through the community, and an ideal location on the Texas Wine Trail between Austin and San Antonio.
You can also click below to view new drone video footage of the newest property releases.