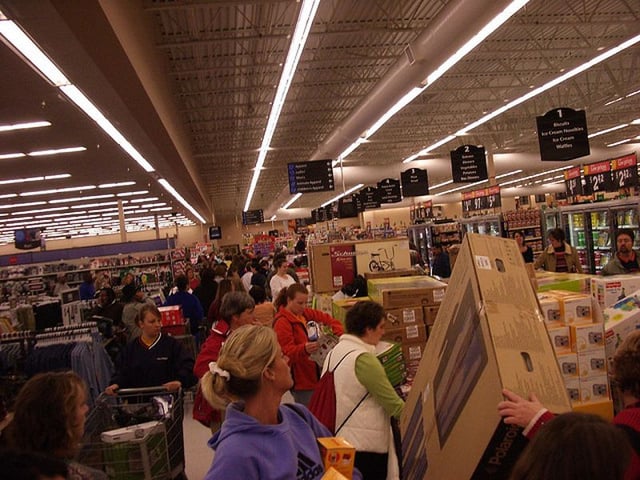 If you're counting down the days until Black Friday so you can score some deals on your Hill Country holiday shopping, we've got some great news: This year more than ever, you don't have to wait for Black Friday. Or go shopping on Thanksgiving, for that matter.
Black Friday—traditionally known as the day after Thanksgiving, when most retailers finally get into the black (meaning they begin turning a profit for the year), has morphed into a shopping season of its own, with retailers offering more and better deals earlier and earlier in the year. Many ads are already out, and several stores are already offering special deals that are as good as some of the Black Friday deals from past years.
Want some tips to make the most of this year's Black Friday shopping season?
Tip #1: Have a go-to site
There are PLENTY of Black Friday websites out there that can help you focus on where to go and what to buy. One of our favorite sites is The Black Friday. It's a great place to visit frequently as they are constantly updating news about sales and adding leaked ads to the site. They also break down the best offers out there, which can save you a lot of researching time.
Here are a few of the deals they are already showing:
Tip #2: Get connected
Be sure to "like" your favorite stores on Facebook, follow them on Twitter, join their email lists, and download their apps. There are often special offers or advanced notice of sales that are extended to fans. Walmart is depending on its mbile reach more than ever this year—"It expects 75% of its holiday traffic to come from mobile this year," said USA Today. "The mobile app now lets users shop the Black Friday circular by clicking and then purchasing products directly from the ads."
Tip #3: Beware of "limited quantities"
If you have your heart set on a specific TV on sale as a doorbuster at Best Buy or Walmart, for instance, make sure you read the fine print on the ads so you know if it's an item that's only being offered in limited quantities. If so, be prepared to arrive at the store early. Walmart is again offering its "one-hour guarantee, which guarantees special deals on five products—an iPad Air 2, Beats headphones, an Xbox One, an HP Touch laptop and a 55-inch LG TV—to anyone lined up in the designated spot in stores between 6 p.m. and 7 p.m. on Thanksgiving. Either the product or a raincheck for guaranteed delivery before Christmas will be available."
Tip #3: Bring a friend
Getting those limited quantity or one-hour guarantee deals while still being able to shop for the rest of the stuff you want isn't easy. The best strategy: divide and conquer so one of you can wait in line for doorbusters while the other zips through the store.
Tip #4: Get the map
On Black Friday, it doesn't matter if you know the layout of your local Target like the back of your hand. Special store items will not be located where you think they should be. Target and Walmart typically release store maps prior to Thanksgiving that show where the doorbusters and special deals will be located.
Tip #5: Get comfortable
You may be waiting in line for quite a while if you're there for some of the most popular items. Wear comfortable shoes. And bring water and a snack. If you're going to be waiting in line outside (like at Best Buy, Target, and other stores that open at a specific time on Thanksgiving), bring a jacket or blanket so you can stay warm. It won't do you much good if you're being driven to the hospital with frostbite just as the doors are opening.
Tip #6: Stay calm
We've all seen stories on the news of fights breaking out and people being trampled. Yes, we all want to get that iPAD at a discount, but is it worth a crushed skull?
Tip #7: Don't leave home
There's no guarantee that the items advertised in the Black Friday ads will be available online unless they say so…but, in years past, this has been increasingly true.
"Last year, our research found that 70% of Black Friday doorbusters were available, at least briefly, at the store's web sites," said Dan de Grandpre, CEO of DealNews.com on Forbes. "So, consider ditching your trip to the store to shop online instead."
Walmart is beginning online sales at 12:01 a.m. Pacific time on Thanksgiving, and has said it will provide "nearly all" of its deals online and in stores.
Want more great deals? Buying land in the Hill Country is the hottest buying trend around—and you don't have to line up in the cold or get up at the crack of dawn to take advantage of the opportunity. But you should hurry in to communities like Vintage Oaks, the fastest-growing community in the Hill Country. Vintage Oaks just released brand-new homesites in New Braunfels to meet buyer demand for Hill Country acreage.
For more information, visit Vintage Oaks or click below to see the new homesite release in Deer Creek.