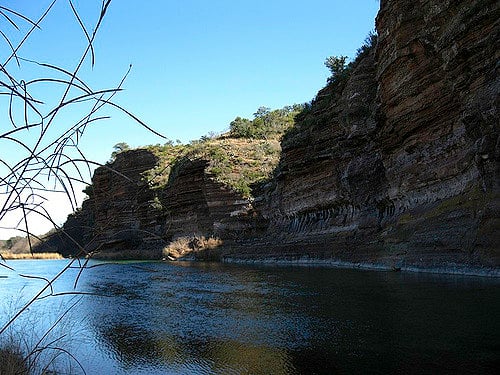 Among numerous favorite Hill Country activities, fishing stands out as one of Texas residents' and visitors' top choices. The best Hill Country fishing spots are found throughout the area, from Canyon Lake to the Llano River.
When you land in the Hill Country, you'll want to head to the Guadalupe for great flyfishing (not to mention some of the best tubing in the Texas Hill Country, plus rafting, canoeing, and kayaking).
Canyon Lake is a great place to drop a line, enjoy some of the Hill Country's most scenic sights, and catch Rio Grande perch and Guadalupe bass. It's also a haven for water sports in the Hill Country. For the best fishing, head to the area just below Canyon Lake Dam, where freshwater trout are stocked throughout the year and rainbow trout and brown during the fall and winter months.
Just west of Burnet, Lake Buchanan is a favorite Hill Country fishing spot, stocked with largemouth bass, catfish, white bass, and striped bass. Boating is another popular activity on the lake.
It doesn't get much better than fly fishing on the Llano River. Here you'll find abundant Guadalupe bass, largemouth bass, alligator gar, and sunfish. The South Llano River State Park is a favorite spot along the river.
The 600-acre Lake Marble Falls is known for having a record number of striped bass, as well as largemouth bass, catfish, and sunfish.
You can rent a canoe or paddleboat to traverse Inks Lake, but the real draw when fishing in the Hill Country is the abundant bass, crappie and catfish.
Head out to Los Maples Natural Area in Sabinal and you'll also find a great array of largemouth bass, Guadalupe bass, and sunfish.
A trip to Blanco State Park can yield a great take of Guadalupe bass, sunfish, catfish, smallmouth bass, and Hill Country hybrid bass.
For more information on the great abundance of recreational opportunities in the Hill Country, visit Vintage Oaks. The fastest-growing community in the Hill Country for three consecutive years, Vintage Oaks offers a unique opportunity to buy land in New Braunfels and build a custom home in the Hill Country. A variety of Texas land is offered from 1 to 14 acres plus resort amenities including multiple pools, a lazy river, a community clubhouse, ball fields, and walking trails, in a desirable location on the Texas Wine Trail between Austin and San Antonio.
You can also click below to view drone video of our new Deer Creek property release.