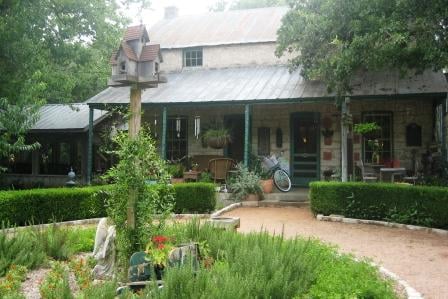 The Hill Country is a growing area that's a hotbed for employment, entertainment, relaxation, recreation, and Great Texas real estate values. But it's also bursting with romantic possibilities, from dimly lit restaurants serving decadent dishes to ideal spots to spend a night surrounded by nature's bounty to special events that allow you to drink in one of the world's finest winemaking regions. Whether you're looking for a great date night spot in New Braunfels or an ideal place to spend a romantic Valentine's Day in the Hill Country, you'll find an abundance of great options here.
Head to Fredericksburg
According to CNN, it's the most romantic small town in the nation, noted for its views, vineyards, and cozy places to cuddle up. A fave spot is Fredericksburg Herb Farm, a scenic bed and breakfast that also has an onsite restaurant, Farm Haus Bistro, and a spa.
Head to New Braunfels
New Braunfels gives Fredericksburg a run for its money in the romance department, with stunning scenery that can be enjoyed all over the city and a host of great Hill Country date ideas, like tubing the Comal River. The cool waters and calm rapids make this a more relaxing choice than the Guadalupe River. Being able to enjoy a scenic view of the Guadalupe is a benefit of strolling along the historic Faust Street Bridge. Take a seat on one of the benches with a view of lush greenery and the river below, and it's bound to stir up some romance. There are several spots throughout Landa Park that allow love to bloom. A few favorite romantic New Braunfels activities at Landa Park include:
Paddle boating on Landa Lake—the view of Comal Springs makes it even more inspiring.
The William and Dolores Schumann Arboretum—stroll along the 1.25-mile walking trail with 80 species of trees.
Landa Recreation Center—what's so romantic about the Landa Recreation Center? It's the spot where Kidz Night Out is hosted throughout the summer, and also on special occasions, like Valentine's Day. Drop the kids off for a night of fun, and you've got a few hours to enjoy your own date night in New Braunfels.
Check out the Texas Wine Trail
The Texas Wine Trail is filled with 46 unique Texas wineries that are ready to explore. What's more romantic than sitting with a loved one, sipping a glass of red with a view of rolling hills? The Trail also offers special events throughout the year, including the Wine Lovers Trail in February, the Wine and Wildflower Trail in April, and Texas Wine Trail Month in October.
Go dancing in Gruene
Gruene Hall is the oldest dance hall in Texas, and the spot to head for dancing and live music all year long. Up and coming and established musicians perform shows several days a week, with some of the world's most famous artists playing here too.
Check out some art in Wimberley
Strolling hand in hand through the galleries of scenic, charming Wimberley during the Second Saturday Gallery Trail is a great way to enjoy each other's company and get a little culture. When you're done, try The Leaning Pear for "Hill Country inspired food" in a wooded environment or Jobell Café & Bistro, fine food in one of the newer spots in the area.
Stay overnight in Bulverde
The Bulverde getaway of Twelve Oaks Bed and Breakfast offers a multitude of romantic ideas for Valentine's Day or any special celebration of love. You can order everything from fruit baskets to flowers to champagne on ice to in-room massage packages in your room.
Head to Dripping Springs
The Hill Country's proximity to Austin puts the whole city within easy reach for dates, but a great option is to head west to Dripping Springs. Hamilton Pool is an attraction all year round, whether you're there to take a cool dip or hike through view a view of waterfalls and limestone outcroppings. Dripping Springs Vodka is a great place to tour (especially since it comes with a tasting and souvenir shot glass!).
For more information, visit Vintage Oaks. The fastest-growing community in the Hill Country for three years, Vintage Oaks offers its own sense of romance, with stunning Hill Country land and homes and an array of resort amenities in an ideal location along the Wine Trail.
You can also click below to download the free Hil Country Real Estate Buying Guide.