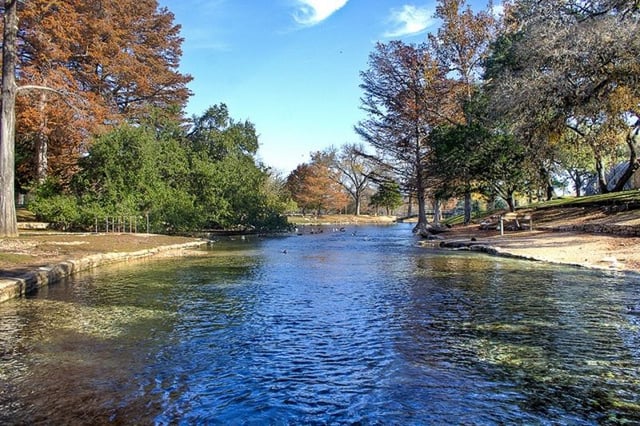 Spending time on the water is one of the favorite Hill Country activities, and the abundance of local lakes and rivers provide great options. Whether you're looking for a family-friendly choice for tubing, the best place to go fishing in New Braunfels, or a relaxing spot to picnic with a view, you'll find it on one of the Hill Country lakes and rivers.
When you land in the Hill Country, you're surrounded by bodies of water like the Guadalupe. Running from Kerr County to the San Antonio Bay through the cities of Kerrville, New Braunfels, and Seguin, the Guadalupe River is a favorite spot for Hill Country recreation. Tubing, rafting, canoeing, kayaking, and fly-fishing provide excitement. Tubing on the Guadalupe in New Braunfels and just East of Boerne in Guadalupe River State Park are two of the most popular recreational activities along the river.
The Comal River joins the Guadalupe in New Braunfels. Called the "longest shortest river in the world," it travels only 2.5 miles on its own. The spring-fed Comal is known for being a calmer choice for tubing and other recreational activities—and is, therefore, a great choice for family activities in the Hill Country. With its mild currents, natural environment, and constant 72-degree temperature, it's a favorite spot during warm weather.
Canyon Lake is a reservoir along the Guadalupe near New Braunfels and San Marcos that is a haven for water sports in the Hill Country. Camping, swimming, boating and picnicking, fishing, as well as hiking, biking, and horseback riding on the equestrian trails are favorite things to do on Canyon Lake.
Just west of Burnet, Lake Buchanan is a favorite Hill Country fishing spot, stocked with largemouth bass, catfish, white bass, and striped bass. Boating on the lake is another popular activity, accessible through county parks and private marinas.
Fly fishermen flock to the Llano River, which travels through the Hill Country north of Enchanted Rock in Fredericksburg and through the town of Llano, for Guadalupe bass, largemouth bass, alligator gar, and sunfish.
A destination for Texas water skiers, Lake Marble Falls is a small (600 acres) lake that's also a favorite for boaters. Fishing on the lake is another popular activity, with largemouth bass, catfish, and sunfish, as well as a record number of striped bass.
Located near Burnet, Inks Lake is a great spot to spend a day on the water. Rent a canoe or paddleboat, or fish for bass, crappie and catfish.
For more information, visit Vintage Oaks. The fastest-growing community in the Hill Country, Vintage Oaks presents unique opportunities to buy land in New Braunfels and build a custom home in the Hill Country. A variety of Texas land is offered from 1 to 14 acres together with resort amenities including multiple pools, a lazy river, a community clubhouse, ball fields, and walking trails and a desirable location on the Texas Wine Trail between Austin and San Antonio.
You can also click below to view the newest release of Hill Country homesites.