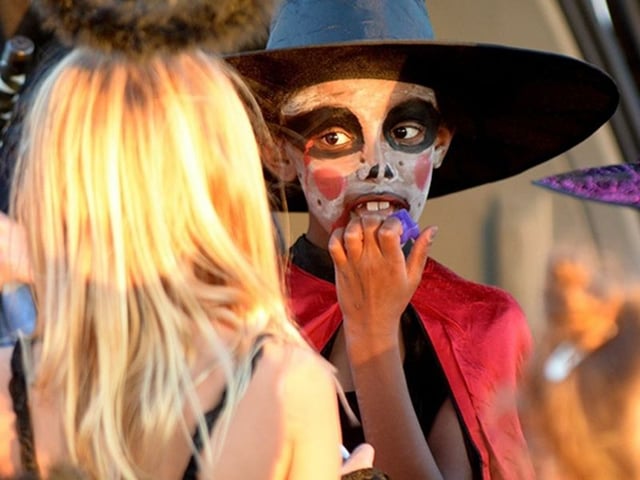 Having Halloween on a Monday may not seem exciting for your kids, but it actually means they have a whole weekend of fun activities leading up to the big day! Looking for the best places to celebrate Halloween in the Hill Country? Here are some great Hill Country activities for families—and for adults, too!
Family-friendly events
Looking for a safe place to collect candy? Trunk or Treat with the kids at Peter Piper Pizza in New Braunfels on Friday, Oct. 28 from 6–8pm.
Residents of Vintage Oaks will also be Trunk or Treating in their annual Halloween celebration in the community on Monday, Oct. 31 from 6–8 p.m. at the Clubhouse. This is a favorite Hill Country family event for residents of the San Antonio MSA's fastest-growing community over the past three years, allowing safe and fun candy collecting, plus pizza, treats, a hayride and a pumpkin bounce house. It's also a great opportunity for residents to meet, spend time with each other, and make lasting memories.
Hill Country Halloween Half
Work up a sweat and have some fun at the same time, at the costume-optional Hill Country Halloween Half on Saturday, Oct. 29 at 7:30am. This half marathon in Cedar Park is on a mostly flat course, and once you're done, you can celebrate at the finish line with "a party with music, massages, entertainment and activities for kids, and of course an abundance of random prize giveaways."
3rd Annual Tricks and Treats Fall Fest
Texas Ski Ranch hosts its annual fest on Saturday, Oct. 29, from noon to 8pm, with activities for the whole family including trick-or-treating, a costume contest, and a silent auction.
Great Hill Country Pumpkin Patch
This pumpkin patch in Medina is a must-visit for families for the last 20 years, with activities throughout the weekend, including:
Unlimited hayrides
Play in the hay bale maze and giant hay stacks
Petting zoo
Play an instrument in The Great Hill Country Symphony
Apple orchard tours
Visits to the cider mill and apple processing
Paint a pumpkin
Storytelling
Pet and groom a pony at Hills of Heaven Outreach
Paint a mural
Pony rides
Barrel train ride
Face painting
If you haven't yet visited the Animal World & Snake Farm Zoo, this is the perfect opportunity. Their first-annual Howl-een Extravaganza is taking place all weekend, through 6pm on Halloween.
Dia de Los Muertos Celebration
Don't miss an opportunity this weekend to help kick off New Braunfels' first annual Dia de los Muertos celebration on Saturday, Oct. 29 from 5­-10pm. Hosted by the Hispanic Business Alliance, a part of the Greater New Braunfels Chamber of Commerce, this free event includes "cultural food, arts & crafts, shopping, live music, and entertainment" including:
Mariachi Internacional Monarca
Compania de Danza Folklorica
Terry Cavanagh
Tejano Superstar Patsy Torres
Adult events
There are also several adult events to celebrate Halloween in the Hill Country this year.
Think beer and candy don't go together? The New Braunfels Brewing Company would like to show you otherwise. "We love the endless pairing possibilities with beer! Trick or Treat, Give me some beer and a sweet! In this pairing we will take three types of candy and three types of beers and show you how the flavors complement each other," they said. "The candy pairing will be offered as a flight for the night." The event takes place on Friday, Oct. 28 from 4–9pm.
The Faust Hotel Bar's 8th Annual Halloween Bash
For some people, it just isn't Halloween without a trip to the Faust! The hotel's spooky Halloween festivities, from Saturday, Oct. 29 at 11am until Sunday, October 30, at 1am, include "freaky food specials and demented drink specials all day. Come out for the Carolina Reaper Wing eating contest, and wear your best costume for CASH prizes for scariest, sexiest, funniest and best couple costumes. $100 cash prize for best overall costume!"
Drink, Walk and Support Pub Crawl
This first annual costumed pub crawl is sure to be great fun, and even better, it's for a great cause, in support of NB Next. The crawl starts on Sunday, Oct. 30 from 3–5pm, starting at The Phoenix.
For more information about events in the Hill Country and living in new Braunfels, visit Vintage Oaks or click below for information on new homes available now.