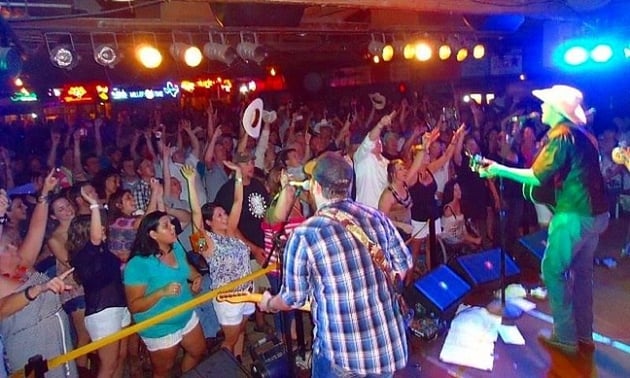 For music lovers, Texas is a dream come true thanks to all the talented musicians and nightly live music. But if you think you have to go to Austin to be in the heart of the Texas music scene, you'll be happy to discover all that the Hill Country has to offer. And, even better, the hottest venues and festivals are concentrated in and around New Braunfels.
Gruene
Being minutes from Gruene Hall, the oldest continually run dance hall in Texas, allows you to enjoy the history—and the tunes—anytime you want. For live music in the open air with a view of the river (not to mention a great meal), walk next door to The Gristmill River Restaurant & Bar, one of the Hill Country's favorite spots. Looking for a relaxing environment to drink a glass of wine while enjoying a side of nature with your live music? The Grapevine is your destination.
Come October, locals and visitors alike head to the banks of the Guadalupe River for the Gruene Music & Wine Fest, featuring renowned and up-and-coming artists, catered dinners, Texas food, beer and wine tastings, and auctions.
San Marcos
In San Marcos, Cheatham Street Warehouse is famed for being the place where George Strait got his start and is also a live music hotspot. The Warehouse hosts a weekly songwriters circle and is also the venue for BIGFEST in June, "three days and nights of great Texas music," with 100+ new, up-and-coming, and established artists.
San Marcos is home to several other festivals and events spanning a number of musical styles: the Hill Country Jazz Festival in February at Texas State University's Evans Auditorium; Wine & Art Weekend on the Square in April, with a weekend of food, wine tasting and live music in downtown; Swing on the Square in May, with Western Swing and big band swing plus a farmer's market and Texas arts & crafts in Courthouse Square; and Summer in the Park, concerts every Thursday night during the summer in Park Plaza.
New Braunfels
Tavern in the Gruene is a favorite spot for live music during Happy Hour on Thursdays and Fridays and is also the home of the Ray Wylie Hubbard Roots and Branches Weekly Live Radio Show on KNBT 92.1 FM that features great Americana artists. Grab a cold one and a good seat at River Road Ice House. Take in a bit of history while listening to live music nearly every night of the week at Riley's Tavern, the state's first tavern after prohibition. For some interactive musical fun, grab a group of friends and head to AJ's Ale House to participate in their rock & roll sing-along piano bar show.
Enjoy the great outdoors at Lazy L&L Campground, with live music every weekend throughout the summer, or WhiteWater Amphitheatre, New Braunfels' large act venue overlooking the Guadalupe.
New Braunfels is the place to be all year long for special events and festivals featuring great music. Wein & Saengerfest in May pairs wine tasting and food with live music in historic downtown. In June, the annual JMBLYA festival at WhiteWater Amphitheatre is a draw for its wide range of top artists spanning different musical genres. In November, people come from far and wide for Wurstfest, the popular annual celebration of sausage that is also a great place to enjoy local music.
Vintage Oaks might as well be added to the list, having recently hosted country star and Hill Country favorite Jack Ingram at the opening of its new Timber Ridge Park. This scenic spot within the Hill Country's fastest-growing community proved a worthy complement to Ingram's signature style as he performed a concert for 200+ invitation-only guests.
Join us for the next Vintage Oaks Summer Concert with Shinyribs at Timber Ridge Park on Tuesday, July 14th at 7:00 pm. Enjoy live music, some awesome food trucks and good company in this scenic area fo the Hill Country.
Vintage Oaks offers a range of homes and homesites together with breathtaking nature views, resort-style amenities, and convenience to Austin and San Antonio. For more information, visit Vintage Oaks or click below to download our free Guide to Living in the Hill Country Music Scene.