Cleaning Tips So Good You Won't Need Them Twice
What if you could clear out the clutter in your home and never have to do it again? There's a new trend that's less about cleaning up and more about understanding the possessions we all need to clear out once and for all. These ideas have ignited a new kind of home-organization conversation spanning from the United States to author Marie Kondo's home country of Japan.
Kondo's book "The Life-Changing Magic of Tidying Up," has sold over 2 million copies and has created a cult of followers who fondly call themselves "Konverts." One Martha Stewart editor put Kondo's method to work in her own apartment to truly discover if these methods are her path to a clutter-free lifestyle or simply a new take on past cleaning tips.
Kondo pulls together principles of feng shui with the idea of a massive clean sweep; long gone are the more American principles of cleaning such as straightening daily and doing a deep clean during each change of season. Instead she advises clients and readers to hold onto what "sparks joy" and trash everything else. Yep, we said everything else has to go.
Like the editor, we can all identify with clutter in our living spaces. The things we hold onto many times go far beyond sweaters we'll never wear in Texas; those are easier to pitch than the clay handprint our children, now teenagers, created many years ago.
Clear Your Space of Good to Make Room for Better
Kondo's first step is less action and more visualization. According to the editor, she advises people to envision the life you want to have in your new space. It may be to host the next neighborhood Friday night get together, to start a family, or share your living space with someone else. Kondo says that by getting rid of things, we are "freeing up space for the things we love."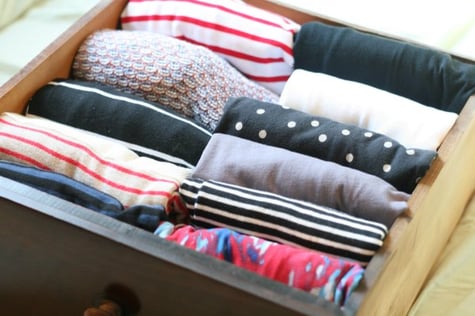 Image Source: Modern Mrs. Darcy
Hold Onto "What Sparks Joy"
Kondo advises to take all your possessions and lay them out in front of you and using your intuition that comes from actually picking up the item determine if the item makes you happy. If it "sparks joy," it stays. "These are the types of things you should boldly hold on to," she writes. "If you can say without a doubt, 'I really like this!' no matter what anyone else says, and if you like yourself for having it, then ignore what other people think."
This is only the beginning of the journey to reclaim your possessions and implementing Kondo's cleaning tips that can last a lifetime. Ready for a fresh lifestyle to match your personal lifestyle? Find out more about how the Hill Country lifestyle at Vintage Oaks can provide you and your family a greener, simpler perspective.