Transform Into a World-Class Chef With These Kitchen Trends
Take the style of your favorite up-and-coming neighborhood restaurant, add room for your favorite friends and family and "Voila!" your kitchen is instantly updated. The 2015 kitchen trends vary but one common theme that resonates throughout is each of these changes is meant to facilitate a sense of community within your home. Your kitchen is the common area where people can gather together to eat or just for a chat. Update your home with these kitchen trends from Freshome and start whipping up some restaurant-style dishes for your guests.
The Kitchen Island is Your New Centerpiece

Along the same lines of thinking, the kitchen island is where your guests can gather and where you do the majority of your casual entertaining. The trend this year will be to create an island as unique, yet useful, as the get-togethers you'll be hosting. Treat this area almost as another piece of furniture, or in the case that you can find a great barn or vintage table to double as your island, it is another piece of decor to add to your kitchen. With the island updates this season also comes the option of mobility. By adding wheels to your new island, you have the ability to move your workspace around your kitchen or double the use of your island as a corner buffet when entertaining.
Add an Extra Dose of Tile to Your Style
Tile has always been a staple in bathrooms but this trend shows much more tile in this room of your house. Try a wood-grain tile that is made out of porcelain on the floor in your kitchen. You'll keep the stylish look of wood without the cleanup of having real wood in such a well-traveled space. This type of tile is also easier to install as well as being easier on your budget. Freshome suggests not only incorporating a colorful tile as a backsplash but give your kitchen a new look by covering an entire wall. The article also adds another interesting idea. Line your sink with tile, it's easier to clean than a brushed metal and will give your kitchen that little burst of character.
Be Bold
Color, color and more color is one of the hottest trends in 2015. You may not be ready just yet to invest in red or turquoise cabinets, but try painting your upper or lower cabinets with a brighter color. The contrast will add a fresh feel to your space. As the article suggests, if you decide to be more bold, keep the other details in your kitchen neutral or this trend could backfire fast.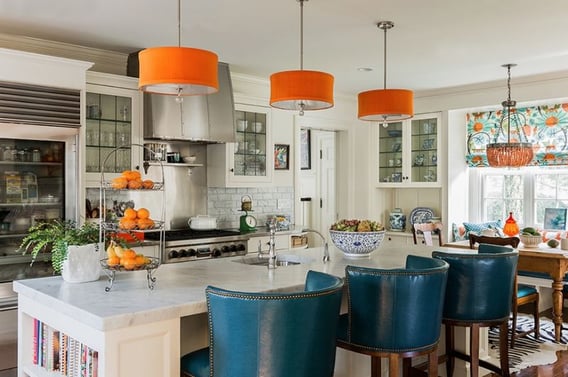 Image Source: Freshome
Savvy Storage
With the cleaner more modern area of kitchen comes the need for innovations in storage. One storage upgrade that will turn you into to an efficient chef overnight is the addition of pull out pantry shelves. This isn't the most creative of kitchen trends suggested but will definitely be the one to up your organizational game. Thinking out of the storage box with this type of shelving will add a ton of additional places to keep what you need in the kitchen close by but still out of sight.
Are you ready to live in a place where resort-style amenities aren't limited to just your kitchen? At Vintage Oaks, we took the kitchen trends everyone loves and created a Tuscan-style Clubhouse where you can entertain groups of friends as they enjoy the Olympic-size swimming pool. Want to see what else we have to offer? Learn more about Vintage Oaks by requesting information.