It's impossible to fully experience all that San Antonio has to offer in one day. So why not take the weekend? In this article on Southern Living, writer Les Thomas outlines the best things to do in San Antonio. Whether you're looking for a romantic getaway or a few nights of adventurous fun, our guide to San Antonio will help you plan your perfect weekend.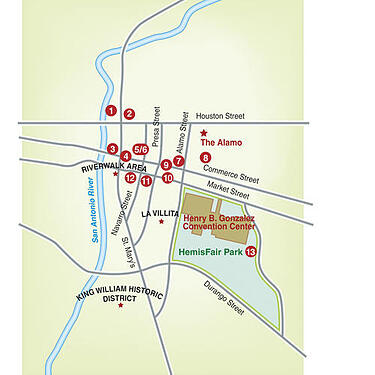 Map of San Antonio, courtesy of Southern Living
Saturday: Relax and Ride The River
Quietly start the day off right with pastries, coffee, and scenic views: what more could anyone need in the morning? A calm start to your Saturday is sure to give you the energy you'll need for the rest of the weekend. For breakfast, Thomas recommends the baked goods at The Guenther House or Schilo's where you can experience, "a filling German deli breakfast of eggs, bratwurst, biscuits, and coffee."
Once you're full and ready to start the day, take a boat tour of the San Antonio river with Rio San Antonio Cruises. Afterwards, Thomas advises individuals to, "step inside Aztec On The River to see a dazzling sound and light show that spotlights the movie palace built in the style of a Mayan temple…"
Next, do some shopping at the riverside boutiques. When you've worked up an appetite, enjoy a bite of Mexican cuisine at the delicious yet budget friendly, Iron Cactus Mexican Grill & Bar. Thomas praises the "spicy chile relleno and vegetable-loaded tortilla soup" accompanied by the "fresh guacamole made at your table."
After lunch, Thomas insists that you head to beautiful La Villita. He writes, "shops and galleries fill the vintage buildings, where glassblowers and other artisans work. You might see a wedding party waiting at the elegant Little Church of La Villita, built in 1879."
Officially end your activity-filled day by experiencing a stellar Texan sunset. Thomas says the view is best "from the 750-foot-high Tower of the Americas." For dinner, he recommends the Eyes Over Texas restaurant.
Stay until Sunday: Get Your Local History Fix
If you're looking to stay the night in San Antonio, Thomas recommends the Sheraton Gunter Hotel, a unique building known for its history. The hotel just so happens to be right across from the popular Majestic Theatre, also on Thomas's list of things to do in San Antonio. If you're looking for a more luxurious hotel experience, Thomas recommends that you visit the Watermark Hotel & Spa, "book a room overlooking the river… rates start at $399."
Eat breakfast at your hotel of choice and then study some local history by travelling to King William Historic District. Thomas describes it as being a beautiful area with "limestone-and-gingerbread mansions built by early German merchants."
After a full weekend of discovering all that San Antonio has to offer, plan your next mini-vacation to Vintage Oaks in New Braunfels!