Is This Kitchen Trend Right For You?
Almost everyone can think of a time when a friend or family member gave you only a few minutes notice before they showed up at your door. You began to run frantically all over your home attempting to pick up. Rooms went on lockdown, newspapers and computers shoved wherever they would fit and the dirty dishes pushed into the microwave or oven.
What if there was a kitchen trend that left the busiest room in your home completely exposed all of the time? Yahoo writer, Amanda Kingloff, explains why you might be more willing than you think to jump on the "no cabinet" kitchen shelving trend and step out away from the boundaries of those old cabinet doors.


1. Are You Clean?

Really, really clean. According to Kingloff, this might be the number one deciding factor about this kitchen trend. You must be willing to keep things organized or you might run the chance of someone attempting to purchase something off your selves, mistaking your kitchen for a garage sale. Kingloff also points out the importance of the clean factor and what you are willing to do to maintain it. As boring as cabinet doors can be sometimes, they serve a purpose, to keep dishes ready to use. Think about your commitment to maintenance before you go "door free."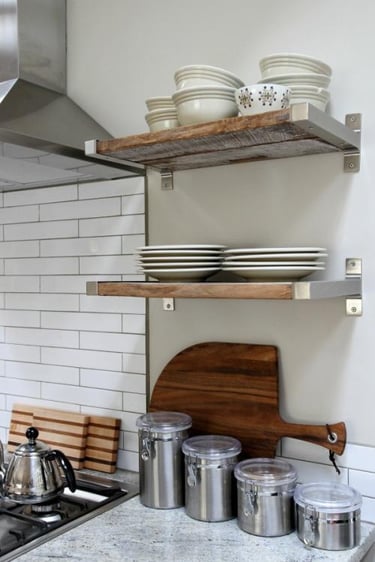 Image Source: House Tweaking
2. Are You an Entertainer?
If you love having people over then this concept might be for you. Feel free to let your guests buzz around the kitchen and help you set the table or help themselves to whatever they need. Lending a hand to the chef often helps your guests feel useful, especially if your dining or entertaining areas are in another part of your home.
3. Are You a Collector?
Wherever you travel, you love to pick up little additions to add to your kitchen. An open cabinet concept allows you to display your stuff and give your kitchen its own little bit of extra personality. East Hampton interior designer Stephanie DiTullio suggests treating the cabinets as if you would a bookshelf and style them out accordingly.
4. Are You an Editor?
This kitchen trend requires you to be willing to clean out and do an inventory of what you actually use. Another good suggestion from DiTullio,"Here's a good rule: if you use it everyday, then it can go on open shelves. If you use it every week or more, put it behind a cabinet. And then if you use it a few times a year, store it in the basement if you simply can't part with it. When items aren't touched, moved, or used, they collect more and more dust. Kitchen items in the swiftest rotation work best on open shelves."
No matter what kitchen trends you prefer, we have a variety of kitchen layouts and floor plans available. Contact us and learn which of our builders fits your style and needs.