It's official: New Braunfels is one of the Top 10 in-state travel destinations, according to the reputable Texas Highway Magazine. A recent article on Radio NB gives readers the low-down on this prestigious rank in one of Texas' most widely read travel publications.
The list is voted on and determined by the magazine's devoted readership.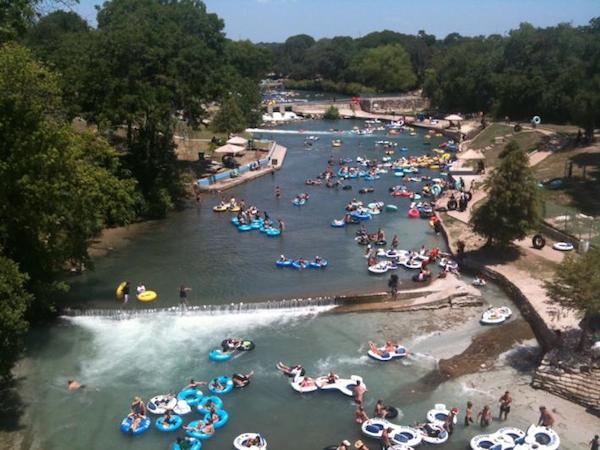 Photo courtesy of Radio NB
New Braunfels came in #9 on Texas Highway's list, joined by some of Texas' leading tourist hotspots and best-kept rural secrets. It earned the honor of ranking higher than notable cities like Houston, Dallas, Austin, Padre Island, Galveston, and Corpus Christi.
For the full list to date (the top six have yet to be revealed!) and the write-up on New Braunfels, check out Texas Highway's website.
Travel to New Braunfels for the Top Attractions
In part, New Braunfels undoubtedly reached the #9 spot due to popular local attractions like Schlitterbahn and the Comal and Guadalupe Rivers, "all a perfect way to battle the summer heat" according to Radio NB. Schitterbahn is a family-owned and operated waterpark resort located along the travel to New Braunfels.
Proclaimed the "longest shortest river in the world" by the locals, the Comal River is home to such unique sights and activities as Texas Tubes tubing company and the breathtaking views of the Comal Springs. Running from Kerr County to San Antonio Bay, the Guadalupe River is a popular destination for rafting, fly fishing and canoeing.
Unique New Braunfels Charm
The readers of Texas Highway Magazine also noted New Braunfels' "rich German heritage, eclectic shops and restaurants." According to their recommendations, a trip to New Braunfels offers the wholesome charm of a small town, with the convenience of a short drive to the nearest big city.
The historic Gruene Hall was named as another unique selling point of travel to New Braunfels, TX. Built in 1878 by Henry D. Gruene, the celebrated Gruene Hall is located in the near-by town of Gruene, Texas, and bills itself as "the oldest continually run dance hall in Texas." Find out more about the venue here.
A Short Travel to New Braunfels from Your New Home
For the best living that the Texas Hill Country has to offer, visit the community of Vintage Oaks Texas. This 3,300 acre community features sprawling homesites and homes for sale in New Braunfels. You can build or buy the home of your dreams, on stretches of land ranging from 1-14 acres.
Travel to Vintage Oaks, a community just outside of New Braunfels to discover the backdrop for a life well lived. Visit the website or call a representative at 800-303-6780 to learn more.