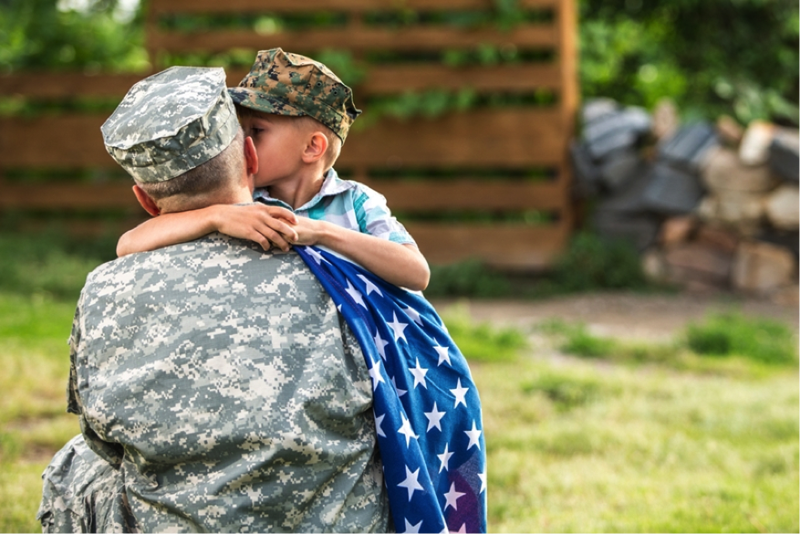 On Veteran's Day, Wednesday, November 11, the country takes a day to reflect on and celebrate America's veterans for their selfless service. But in certain communities, like Vintage Oaks in the thriving city of New Braunfels, veterans are celebrated daily.
The fastest-growing community in the Hill Country, Vintage Oaks connects with veterans looking for Hill Country land and homes in a bustling area with abundant area amenities and veterans services, plus convenience to Austin and San Antonio. In fact, sixty percent of landowners at Vintage Oaks are veterans!
Veterans services
Buying land in New Braunfels means being convenient to veterans' services including Randolph Air Force Base and the New Braunfels VA Clinic. The San Antonio Military Medical Center (SAMMC) is also nearby on Fort Sam Houston in San Antonio. SAMMC is the Department of Defense's largest inpatient medical facility and also operates the only Department of Defense Burn Center. Hill Country MHDD Centers Mental Health Clinics, offering veterans Cognitive Processing Therapy (CPT), cognitive behavioral therapy, and skills training, are also located in New Braunfels and neighboring San Marcos.
Great amenities
With excellent shops and restaurants, some of the best recreation in the state, and gorgeous parks, it's no surprise the Hill Country is a favorite area of veterans, many of whom move from San Antonio to be surrounded by natural beauty while still remaining within easy reach of the city.
Hiking, biking, golfing one of the local courses, picnicking in Landa Park or Fischer Park, and tubing the Comal River are just a few of the Hill Country activities veterans enjoy.
Texas Veterans Loans
Buying land in the Hill Country offers an extra advantage to Texas Veterans because of special loans from the Texas Veterans Land Board (VLB) that can make Texas land and home purchases more affordable.
The VLB offers a one-of-a-kind loan program that is only available in Texas, with a 5% down payment that's the lowest of any program in the state. Loans offer 30-year fixed rates, with a maximum land value of $125,000.
The VLB loan is for veterans who have served in any of the United States' five military branches and who are "bona fide" residents of Texas. The loan also:
Is only for properties in the state of Texas
Is available for land purchases of at least one acre
Is for veterans who are at least 18 years old
Also includes special discounts for disabled veterans and unmarried surviving spouses
For those buying a home in Texas, the VLB's Veterans Housing Assistance Program (VHAP) offers low-interest, fixed rate loans up to $417,000 with low and no down payments for veterans, military, and their spouses that meet the same requirements as for the VLB loan. Terms include 15, 20, 25 or 30 years.
Buying at Vintage Oaks
Vintage Oaks is the veterans' choice for its variety of Texas homesites that meet the $125,000 maximum required by the VLB. These one-acre-minimum lots offer a variety of settings, with gated and non-gated properties, and wooded and cul-de-sac lots, plus the resort-style amenities people love about this Texas Hill Country masterplan.
Vintage Oaks is filled with veterans who form the fabric of the community, and wounded warriors who were the recipients of homesites from community developer SouthStar Communities and mortgage-free homes in partnership with Operation FINALLY Home (OFH). SouthStar and OFH have now partnered on 10 mortgage-free homes for American heroes with the 11th home currently under construction for American hero, U.S. Army Specialist Michael Crawford.
With Veteran's Day this week, a special spot within Vintage Oaks may be even more popular; Veterans Walk is a commemorative stone pathway under a canopy of oak trees that was built adjacent to the community's new Timber Ridge Park. The walk features the name, rank, and service time of honorees engraved into worn limestone, dedicated by the residents and owners at Vintage Oaks as a special tribute to veterans. Benches, seating, and a 10-acre wildflower sanctuary add to the experience.
For more information, visit Vintage Oaks or click below to download our free Texas Veterans Land and Home Buying Guide.