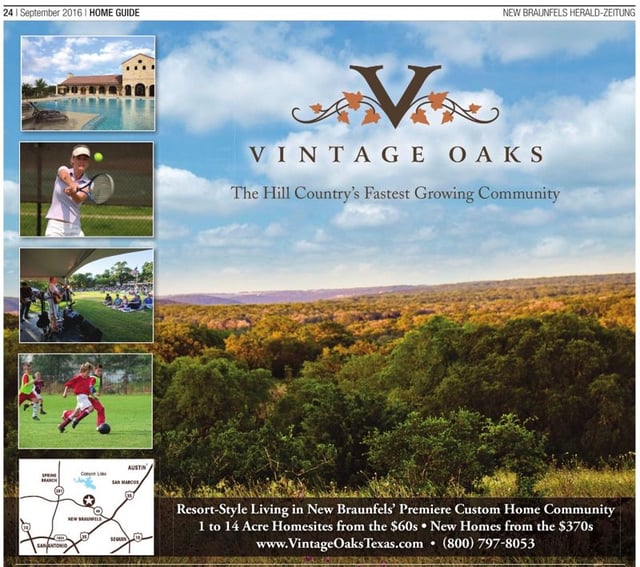 Have you checked out the New Braunfels Herald-Zeitung's September 2016 Home Edition? If it's sitting on your kitchen counter waiting for you to have a few free minutes, flip it over and check out the back page. That's where you'll see Vintage Oaks, in full-page glory, detailing some of the many reasons why so many people are moving to Vintage Oaks and why it's the fastest-growing community in the Hill Country for the last three years (and counting).
You'll also see numerous pictures of what it looks like to live at Vintage Oaks. That big picture in the middle—the incredibly scenic shot of rolling hills and varied shades of autumnal beauty? That's the type of Hill Country view you can expect to find in the community. Vintage Oaks' views are one of the draws for New Braunfels land buyers and homebuyers, who want to live in the second-fastest growing city in the nation right on the Texas Wine Trail but be surrounded by nature and inspiring landscapes.
On the top left, an image of the resort pool and Tuscan Clubhouse. These are just two of the many five-star amenities that inspire people to buy land in the Hill Country and buy or build a custom home at Vintage Oaks every day. They're also home to many of the community's events and activities that take place year round.
In the center, a competitive game of tennis, played right here in the Vintage Oaks community, where numerous athletic pursuits can be enjoyed.
Underneath the tennis photo, you'll see a photo of one of the live music shows that are part of Vintage Oaks Summer Music Series. Vintage Oaks' new Timber Ridge Park has hosted everyone from Jack Ingram to Shinyribs to, most recently, Bonnie Bishop, giving residents and guests a great opportunity to enjoy some hot Texas artists in a wonderful new venue.
Directly underneath the concert photo, you can see soccer players giving it their all. Not only do young athletes in New Braunfels love being active and playing their favorite sport, but they get to play right in their community on one of the many ball fields and sport courts.
If you haven't yet been to Vintage Oaks or haven't seen it lately, the bottom image—a Hill Country map—should come in handy. Use it to head over here, tour the community, and see for yourself what so many others have fallen in love with.
For more information, visit Vintage Oaks. This New Braunfels masterplanned community offers Hill Country land for sale from 1 to 14 acres in both gated and non-gated neighborhoods as well as semi-custom and custom homes. You can also click below to see new homes that are now available in the community.