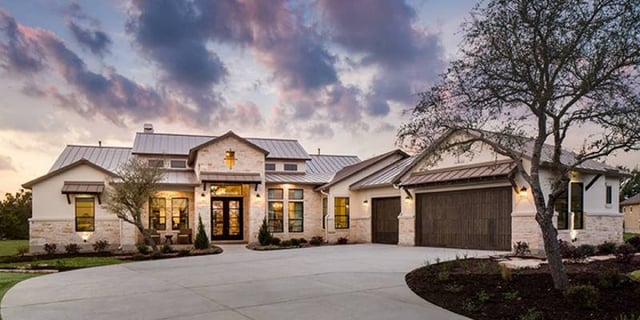 Vintage Oaks is the fastest-growing community in the Texas Hill Country for the fifth straight year, according to newly released data that ranks San Antonio subdivisions by annual starts. The 3,300-acre masterplan offering Hill Country land and homes for sale is the fifth-most active and successful community in all of San Antonio, with an annualized 180 home starts in 2017—its best year by far.
Vintage Oaks is also the No. 1 community in New Braunfels; the top-selling community selling homes from $350,000–$2,000,000; and No. 1 in large lot communities in all of San Antonio for housing starts.
"We are thrilled to be the fastest-growing community in the San Antonio MSA for five consecutive years," said Thad Rutherford, Chief Operating Officer of SouthStar Communities, developer of Vintage Oaks. "In 2017, the community continued its market dominance in acreage properties for custom homes, which has long been our primary concentration. However, the fact that we also led the new-home category is amazing because we only recently introduced The Grove, our new community of builder homes featuring smaller lots for lower-maintenance lifestyles. They have obviously connected with buyers in the same way our land has and continues to."
Vintage Oaks is a top draw for everyone from young families to military to retirees. The warm community spirit, friendly faces, and ongoing events and activities build lifelong friendships and the kind of spirited atmosphere Hill Country land and homebuyers are seeking.
"Our real estate agent showed us a few different areas around New Braunfels, and Vintage Oaks seemed to have the best combination of community, amenities, and environment that we were looking for," said Vintage Oaks owners Mike and Michelle Stemig. "Everyone loves the environment here, the small-town feel, and the welcoming nature of the residents."
Owners Steve and Amy Caberto have built two custom home at Vintage Oaks, and, "Both times we moved in, we had our neighbors show up with either cakes or plates of cookies," they said. "Each time, they introduced themselves to start the relationship. It's really a community here."
Many of Vintage Oaks' land and home buyers are drawn to the community because of its famed resort-style amenities, which include multiple pools; a lazy river; a children's playground; ball fields and sport courts; miles of walking trails that wind through the masterplan; a future Fitness Center; and the Tuscan Clubhouse, home of numerous events and activities that bring residents together.
"We did do a lot of research before we moved here," said owners Lynn and Gary Riegelsberger. "We visited probably every development around Canyon Lake and this area, and even though a lot of the land prices were very similar, this development has many more amenities and better amenities. And it just keeps improving."
Added owners Frank and Angela Baker. "We really love the Clubhouse and the pool. We've been to almost all of the concerts. It's a great way to meet your neighbors, socialize, catch up, and have fun. It's good bonding time. Having this feature is special. There's not too many other communities that do this."
Vintage Oaks is on pace for another industry-leading year in 2018, with new land offerings scheduled throughout the year to meet ongoing demand in neighborhoods like The Reserve and East Ranch. The same is true of new home releases in The Grove as well as semi-custom and custom homes available for immediate move-in.
The Vintage Oaks masterplan features 1–14 acre properties in both gated and non-gated neighborhoods. Located in New Braunfels, one of the fastest-growing cities in the nation, Vintage Oaks is convenient to the city's bustling employment hub and within easy commuting distance to both San Antonio and Austin. Yet, it's nestled in a serene, scenic area right on the Texas Wine Trail that boasts breathtaking Hill Country views.
For more information about buying land or homes in the Texas Hill Country, visit Vintage Oaks. You can also see below for Quick Move Homes in the community that feature immediate move-ins.