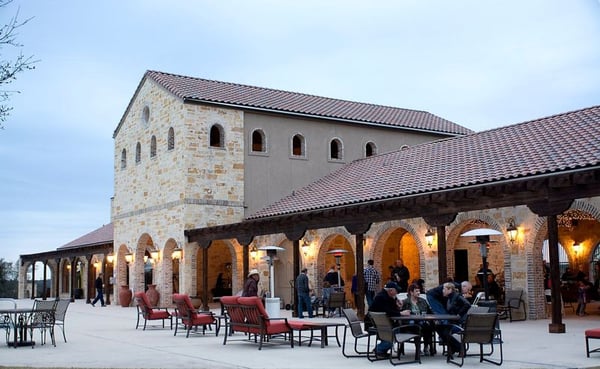 For the third year in a row, Vintage Oaks has been named the fastest-growing community in the San Antonio metro area, according to national housing research firm MetroStudy. This New Braunfels masterplan continued its pacesetting role in 2015 with 95 new home starts over $300,000. Even more impressive, there were only eight communities in the entire metro area—comprised of 1,500 communities total—with more 2015 sales than Vintage Oaks for the year, and all of them represented much lower price points and entry-level homes.
"Vintage Oaks continues to prove that the ideal combination of location, property, and amenities connects with landbuyers seeking the Hill Country lifestyle," said Thad Rutherford, Chief Operating Officer of SouthStar Communities, developer of Vintage Oaks. "It is definitely rewarding to kick off a new year with the recognition of our past success, but, as always, our greatest reward is the happiness of those who call Vintage Oaks home. The fact that 20 percent of our sales come from referrals of landowners and residents is our most important statistic."
The community is on pace for another industry-leading year in 2016 as retail lot sales to custom and semi-custom home builders and Hill Country landbuyers continue to reflect the desirability of the Vintage Oaks offering. Quick sales in the community have repeatedly triggered new Hill Country property releases in Vintage Oaks' newest offering, Deer Creek. Deer Creek is the last neighborhood along the northwestern edge of Vintage Oaks, and many buyers had been waiting for New Braunfels view property to become available. This prestigious neighborhood is located on an elevated site with breathtaking views of the Hill Country, with many lots located on cul-de-sac sites and/or backing to a private ranch.
The 3,300-acre master-planned community features both gated and non-gated neighborhoods with a resort-style atmosphere including a Tuscan clubhouse, multiple pools, trails and parks, and ball fields. Conveniently located in New Braunfels, the 13th-fastest growing city in the nation, Vintage Oaks is within easy commuting distance to San Antonio and Austin, yet ensconced in a serene, scenic area right on the Texas Wine Trail.
For more information, visiit Vintage Oaks or click below to view the newest homesite release and request a copy of the online interactive map!