Know the Right Questions to Ask Builders in Texas Hill Country
Most people have had no experience with building a home. You might have arrived at the decision because you want to customize your home or you want an unlimited amount of choices when it comes to features, most likely not because you know what you're doing.
However, you can avoid a lot of unknowns and confusion once the process starts by asking the correct questions up front. Asking questions can help you gain confidence in who you choose to construct your home and give you further distinction between builders in the Texas Hill Country.
NewHome Source offers several insights into the right questions to ask.
Can I See My Home While It is Being Built?
Building a home is a process and you want to find a builder in the Hill Country that allows you to be part of that process and offer opinions and insight as the home is being built. There are certain things that are agreed upon when you sign the contract to engage the builder, this why it is important to ask the right questions upfront. In addition, you'll have the opportunity to scrutinize every inch of your home before you move in and give any feedback to the build.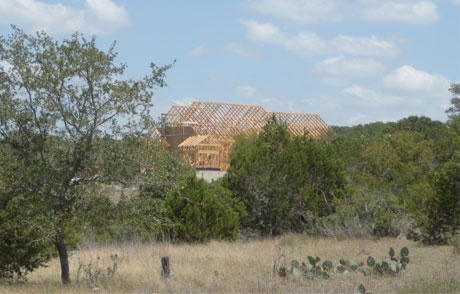 When and How is the Cost Decided?
Most people have an established budget and are approved for a certain amount when choosing to either build or buy a home. Many communities offer the opportunity to choose from a variety of builders who offer different home plans in the same price range. Now, many upgrades can be included in that price, however, customized options on things such as surfaces in your kitchen and your outdoor space will cost you more.
You'll have the opportunity to meet with one of the builders' knowledgeable staff members before construction begins and determine a price based on your selection. They can walk you through the cost of customized features at that time, however, in any case there can be minor financial surprises that come up along the way. They can also help you determine how much padding you might need.
There are many other questions to ask when it comes to choosing between builders in the Texas Hill Country. Download our Guide to Building a Home in the Texas Hill Country and get your questions answered.