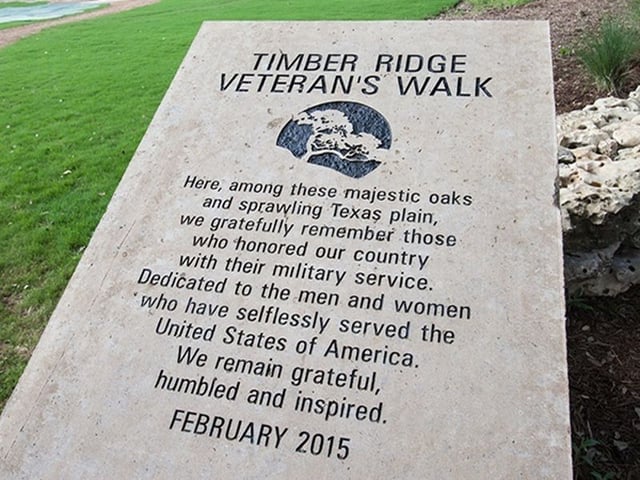 There's a spot atop a hill where the views are breathtaking and the serenity is calming. Surrounded by majestic, 300-year-old oak trees and a 10-acre wildflower field, Vintage Oaks' Veterans' Walk is marked by a stone commemorative pathway that features individual markers for honored veterans, some dating back to the Revolutionary War. It's just one of the many ways that Vintage Oaks honors veterans every day.
Spending some time here is a great way to celebrate our dedicated military veterans on Veterans Day, Friday, Nov. 11 and throughout the year. Located adjacent to Timber Ridge Park, the newest amenity at Vintage Oaks, the monument also features benches where visitors can sit to reflect on the commitment veterans have made to protecting our safety.
Thad Rutherford, Chief Operating Officer of SouthStar Communities, called the park "a tribute to the area's veterans and service men and women who risk their lives every day for freedom." He also noted that almost 40% of Vintage Oaks residents have served or are serving in the military, underscoring the desirability of buying land in the Hill Country and building a custom home at Vintage Oaks.
Abundant Hill Country land for sale, great amenities within New Braunfels and in the Vintage Oaks community, a great location between Austin and San Antonio, and easy access to veteran's services in the area, including Randolph Air Force Base, the New Braunfels VA Clinic, and the San Antonio Military Medical Center (SAMMC) on Fort Sam Houston in San Antonio, are a few of the reasons those who have served in the military are so drawn to this community.
Vintage Oaks is also one of the largest sources of Veteran Land Board loans in Texas. Buying land in the Hill Country offers an extra advantage to Texas Veterans because of these special loans from the Texas Veterans Land Board (VLB) that can make Texas land and home purchases more affordable with a 5% down payment that's the lowest of any program in the state. Loans offer 30-year fixed rates, with a maximum land value of $125,000, and are set aside for veterans who have served in any of the United States' five military branches and who are "bona fide" residents of Texas.
Vintage Oaks is often the veterans' choice for Hill Country homesites that meet the $125,000 maximum required by the VLB. These one-acre-minimum lots are offered in a variety of settings, with gated and non-gated properties, wooded, view, and cul-de-sac lots, acclaimed resort-style amenities, and a supportive environment that fosters strong relationships between neighbors. Residents also love that Vintage Oaks, developer SouthStar Communities, and non-profit Operation FINALLY HOME (OFH) have now partnered on 11 mortgage-free homes for American heroes, including several at Vintage Oaks.
For more information, visit Vintage Oaks or click below to download our free Texas Veterans Land and Home Buying Guide.