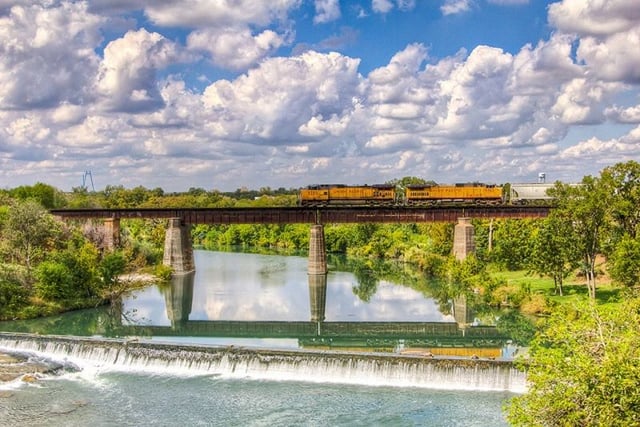 Looking for something to do with the family this season? Winter activities in New Braunfels run the gamut from recreational fun to cultural explorations. New Braunfels family activities are vast, but there are a few activities you can enjoy without the kids, too!
Play at Fischer Park
The newest park in New Braunfels, Fischer Park is loaded with fun and educational activities, a Nature Education Center featuring two fishing ponds and The Archaeology Dig, "an area for young archaeologists to excavate and explore a combination of replica artifacts and dinosaur fossils buried in the sand."
Take in the views
In New Braunfels, stunning panoramas are everywhere. Head for the Faust Street Bridge, Cypress Bend Park, downtown New Braunfels' famous gazebo, Dry Comal Creek Winery, and Vintage Oaks' Timber Ridge Park for some of the best vistas in the city, and some great photo opps.
Quench Your Thirst
Looking for some time away from the kids in the Hill Country? The Texas Wine Trail includes some of the most popular wineries in Texas, and the entire area has become renowned as one of the world's finest wine countries. Huffington Post called the Texas Wine Country the "New Napa for its "hours upon hours of sun and great soil" and its "perfect growing conditions for varietals better known in central Italy and France's Rhone Valley. Today, Texas Hill Country is the second most visited wine tasting region in North American and top 10 in the world. Yet the region is just a fraction of Napa Valley with fewer than 50 vineyards and less than 300 in the entire state of Texas."
Explore the wine trail, or, if beer is more your speed, the Hill Country Craft Beer Trail includes 17 different breweries and is based out of New Braunfels.
Discover the Live Music Scene
The Hill Country is a hotbed of live music, and many of the favorite Texas live music spots are right here in New Braunfels. The Gristmill River Restaurant & Bar is a favorite spot for a drink, a meal, and some great tunes, and is just next door to Gruene Hall. Tavern in the Gruene is a favorite spot for live music during Happy Hour on Thursdays and Fridays, and you can catch live tunes nearly every night of the week at Riley's Tavern, Texas' first tavern after prohibition. Top acts perform throughout the year at Whitewater Amphitheatre, New Braunfels' popular large venue that overlooks the Guadalupe River.
Explore The Caves
In the city of New Braunfels, you'll find impressive caves that offer a unique experience for families looking to explore. The largest caverns in the state of Texas are The Natural Bridge Caverns. Housing numerous cave formations and other unique geological features, the cave was discovered in the 1960s, but artifacts have been found dating back as far as 5,000 BC! The cave is ideal for touring all year long because it maintains a constant 70 degree Fahrenheit temperature.
Discover Gruene Historic District
Gruene is a favorite place to spend a day or evening year-round, but the town really comes alive in the winter, with beautiful holiday lights and numerous special events. You won't want to miss live music and dancing at Gruene Hall, the oldest dance hall in the nation. Live shows with Josh Abbott Band and Ricky Skaggs and a special New Year's Eve with Kevin Fowler are just a few of the musical highlights coming up this winter. While you're in Gruene, don't miss the opportunity to grab a piece of homemade fudge at Gruene General Store, one of the 40 best places to visit in Texas
Listed in the National Register of Historic Places, Gruene is in the city of New Braunfels and just minutes from Vintage Oaks, which should definitely be on your radar if you're thinking about buying land in the Hill Country to build a custom home in Texas. Vintage Oaks is the fastest-growing community in the Hill Country for the past three years. This Hill Country masterplanned community is located right on the Texas Wine Trail and offers Hill Country homesites for sale as well as custom and semi-custom homes, plus an array of resort amenities.
You can also click below to see new home now available.