Where to Find the Distinct Hill Country Music Sound
Texas Hill Country is known for its cultural flair that is distinct to the region, and the musicians and venues you'll find in the area are no exception. Where do the locals go to hear great Hill Country music? The Austin Chronicle picked a few spots that are popular with locals, visitors and that next chart-topping musician.
Gruene Hall
A list of great music halls would not be complete without the mention of Gruene Hall. The venue boasts the title of "Oldest Dancehall in Texas," and hosts local, up-and-coming artists and country legends on its stage everyday. Grab your cowboy boots and head to Gruene for a spin on their original dancefloor.
John T. Floore Country Store
This venue is almost as legendary as their line-up; it was even mentioned in a Willie Nelson song. John T. Floore's has been a Hill Country Music staple for over 40 years and still serves their famous cornbread and tamales each day. They feature an eclectic mix of new and old sounds and host a family night and free dance each month.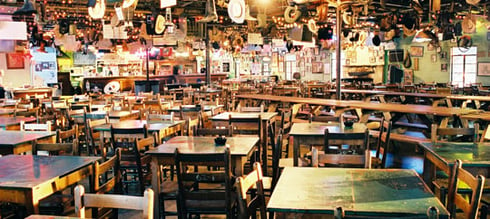 Image Source: John T. Floore's Country Store
Cheatham Street Warehouse
This music staple is located in San Marcos and was created to showcase Texas artists in their home state. Cheatham Street was the inaugural venue for such superstars as Stevie Ray Vaughan and George Strait and is still the go-to for budding artists in the area.
Poodie's Hilltop Bar
This cool spot is a close stop right outside of Austin for good food and even better music. Poodie's also highlights local songwriters in addition to musicians with a Songwriter's Showcase held on Monday's and an Open Mike Night each Wednesday.
Luckenbach Dance Hall
Almost every dance hall or honky-tonk in Hill Country has Willie Nelson at the top of their lists of performers but a famous hit sung by Waylon Jennings and Willie Nelson put this tiny Texas town on the music map for good. Head to Luckenbach for a unique outdoor music experience and while you're there grab a t-shirt in the General Store to remember your visit by.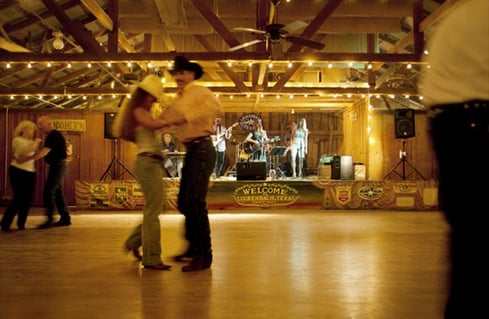 Image Source: The Goode Texan Life
Ready to find the best Hill Country music the area has to offer? Download the Hill Country Music Guide and start planning your visit.