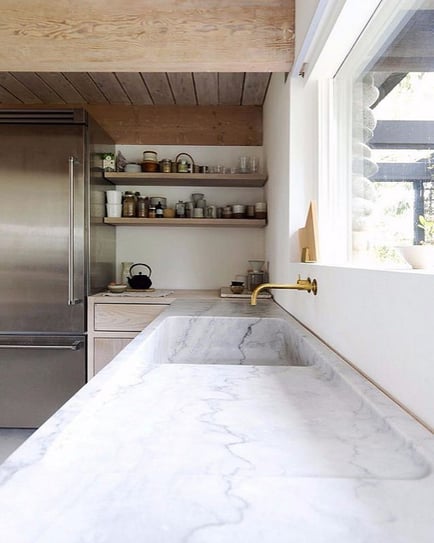 Feeling like you want to fix up or bring new energy to your Hill Country home? That tends to happen at this time of year. If you're looking for a little inspiration, and some ideas to bring a modern feel and features into your place, Zillow Digs is here with the "Top Home Design Trends for 2017."
Trend: Velvet
"A hot fashion trend right now, velvet is expected to make a big splash in interior design next year," they said. "Look for velvet fabrics and textures to weave their way into anything from throw pillows to upholstered couches and curtains."
Velvet is one of the "durable natural fabrics" Forbes recommends for, "upholstery that stands up to anything." If you're thinking about velvet for a couch or chair and are concerned about it holding up to your Hill Country family, you'll want to make sure the warranty is strong or consider a synthetic material that can give you the look of velvet with stain and crush-resistant properties.
Trend: Jewel colors
Hill Country homes often take their color cues from nature, but that can sometimes mean staying on the safe side of the color wheel. This year, look to the deeper, more dynamic shades to create impact and interest.
"Saturated colors like emerald green or sapphire blue will take center stage in 2017," said Zillow. "From artwork to furniture, these vibrate hues will be popping up everywhere, bringing life and richness to homes."
Trend: Marble surfaces
This next trend has been percolating for some time, especially in luxury homes in the Hill Country. Expect to see more of it this year, especially in kitchens, where slabs of Carrarra marble can impart a modern yet classically beautiful look.
"Marble, especially in shades of white and light gray, will be one of 2017's biggest design trends," they said. "Experts predict marble will become an increasingly popular material for countertops, flooring and tabletops, as well as in everyday household items like serving platters or vases."
Trend: Built-in bars
Building a home in the Hill Country this year? You may want to consider this increasingly popular feature: a built-in bar.
"Stemming from 2016's popular bar cart trend, homeowners…will look for a more permanent solution for entertaining within their home," they said. "From built-in shelving for craft cocktail fixings, to a small bar seating area, homeowners are enjoying decorating and hosting more classic parties, and will seek ways to make these spaces more of a focal point within the home."
What not to do
If you're wondering what trends are over and which features you should consider "ditching," in your Hill Country home, Zillow has some advice there, too. They're recommending swapping out overly industrial furniture that is "sometimes uncomfortable or impractical;" cool grays that "have been a safe, go-to choice for homeowners and interior designers alike" for "brighter pops of color on everything from walls to rugs in an effort to make their space feel more individualized;" and quote art, a "fad that will be forgotten quickly in 2017." Instead, they said, "Homeowners will start to incorporate artwork reminiscent of the colors and textures found in nature."
For more information about living in the Hill Country and building a custom home in New Braunfels? Visit Vintage Oaks, offering Hill Country land for sale plus custom and semi-custom homes and an array of resort-style amenities including multiple pools, ball fields, walking trails, and a Tuscan Clubhouse. Vintage Oaks is the Hill country fastest-growing community in the Hill Country for the past three years and is ideally located right on the Texas Wine Trail between Austin and San Antonio.
You can also click below for immediate information about new homes that are now available.