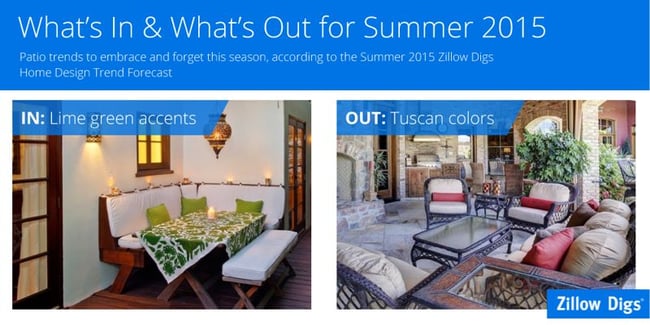 Whether you are in the process of building your home or simply want to add some pizzazz to your backyard in time to take advantage of the summer season, you probably want to make sure your choices are on trend. After all, keeping current is important to maintaining property values. Zillow is making it easier with their report on "What's In & What's Out for Summer 2015."
The season's most popular outdoor design trends for the Hill Country are included in the Summer 2015 Zillow Digs Home Trend Forecast, a one-of-a-kind report that combines data from a survey of leading interior design experts and an analysis of the most popular photos on Zillow Digs.
"The summer heat is driving most outdoors, at least during the cooler evenings, to enjoy the gorgeous sunsets and peaceful evening environment. If you're feeling stuck in your ways and are ready to revamp your patio space, consider some of these trending designs in 2015, according to leading design experts and an analysis of the most popular photos on Zillow Digs," said Zillow's Tali Wee.
Three trends to incorporate
1. Lime green accents
Summer is a great time to introduce some dynamic color into your décor, and this year the color of choice is lime green.
"Lime green is the most popular accent color of 2015. The hue complements nature's color palette and fits perfectly in the natural countryside setting," said Wee. "To stay on trend, let go of your Tuscan-inspired hues and go easy on neutrals. Although they blend nicely with the natural surroundings, the limey pop is far more inviting and sets a lighter overall ambiance. If you're struggling to decide between throw pillows or furniture fabric, keep in mind that overwhelming patterns are out, replaced with dynamic texture."
2. Succulent Styling
Vertical gardens are "all the rage this season," and they make a "sophisticated home for succulents," said Wee.
"Although southern heat can be problematic for many patio plantings, succulents are in season and native to the heat. Luckily, succulents require very little maintenance and only small amounts of infrequent water. Plus, they come in an array of bending, bulging and spiking varieties, suitable for any backyard theme.
In neighborhoods like Vintage Oaks, which offers Texas Hill Country land for sale, vertical gardens may offer a unique way to display plants along a back or side wall, creating another focal point for a well-landscaped yard.
3. Twinkling Illumination
A multi-layered lighting plan is key to the success of any indoor space, and this season the focus is on creating ambient lighting outdoors as well.
"Hurricane candles are trending this season, which is one tough design for Texas heat," said Wee. "Instead of bundled hurricane candles on the outdoor dining set, swap the candles for the flameless versions that won't melt in the summer heat. Or add a stylish lime green umbrella to keep the candles away from direct sunlight. If you have a covered patio, you're in the clear for one of the top three looks of 2015."
Wee also recommends bringing in additional lighting for "soft illumination. A few lanterns or pathway lighting creates a welcoming and safe sanctuary. As the sun sets, you'll enjoy the show with your dimly glowing exterior oasis."
For more information, visit Vintage Oaks or visit Zillow Digs for more home design inspiration!