By Jennifer Hiller / San Antonio Express-News
Is your house or your neighborhood making you fat?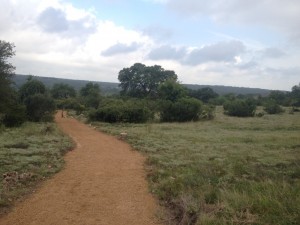 If you're stuck in traffic too much, never see your neighbors and can't easily take walks or get to a park, you just might be living in an environment that's not doing any favors for your physical or mental health.
Designers, doctors and developers are starting to look at the ways that neighborhood design can contribute to public health — and whittle your waistline.
And it's not just about chucking most of your worldly possessions and downsizing into a downtown condo so you can walk to a farmer's market.
"I think filling in central San Antonio is a good idea, but most people will continue to live in the neighborhoods that surround the center. I think a lot can be done in small-scale neighborhood design," said Thomas Schlenker, director of public health for the San Antonio Metropolitan Health District. "This is a community that is rapidly growing and changing and has lots and lots of potential. Hopefully as we rebuild the city around us we do it in a healthy way."
To try to get people thinking about the connection between their home and their health, Schlenker is helping coordinate the Sustainable Urban Development Luncheon on Sept. 21 at the Pearl Stable.
The event will feature keynote speaker Richard Jackson, a pediatrician and chair of environmental health sciences at the Fielding School of Public Health at the University of California Los Angeles. Jackson is the host of the PBS program "Designing Healthy Communities."
"We're looking at an avalanche of public diseases," Jackson said. "We can wag our finger and say, 'Lose weight, exercise more.' If you want to change populations, you have to change environment. If you want kids to run around, there have to be parks and green spaces. People at first were telling me, 'If you're not an architect and urban planner, you shouldn't be arguing these issues.'"
But he said he's driven by the 25-pound average increase in weight since 1980 and the doubling of the diabetes rate since 2000.
What exactly does a healthy community look like? Jackson isn't really picky about that.
"Because I'm a doctor, I don't care so much about the design so long as people can walk and talk," he said.
But he says that things such as improving transit systems and making good sidewalks and bike lanes available can encourage more activity, which usually translates into better health.
One thing renters and homebuyers can do is try to live within a short commute to work, or at least a commute that isn't jam packed with other cars, he said.
"People who are commuting in high traffic have higher cortisol levels and higher blood pressure for several hours afterward," Jackson said. "Medically, it is not good for you."
Another thing people can consider is their proximity to a park, walking trails or whether it's easy to take a walk around their neighborhood, he said. Making friends nearby or meeting the neighbors helps, too.
"The most prevalent social disorder in America is depression," Jackson said. "The treatment for that is community. You stay busy. Our ancestors knew this. If you have contact with nature, people's spirits rise more than if they're on a treadmill watching TV in the basement rec room. Clinical depression is a major disorder, but for the normal person, being physically active and outside and with other people really works. If you're prediabetic, far and away the best things you can do is walk 5,000 steps a day. If you can do this with your friends, that's even better. There's very good medical data to support this."
It's an argument the marketplace is responding to.
Brett Dietz, division president for KB Home in San Antonio, said that walking trails are among the most requested amenities homebuyers ask for in a neighborhood, and therefore are something the builder tries to incorporate, along with playgrounds.
"Sometimes basketball courts and fountains are neat, but walking trails are one of those things that buyers really say that they want," Dietz said. "It goes beyond health. It has to do with family and neighbors."
Thad Rutherford of Southstar Communities, developer of Vintage Oaks at the Vineyard, said the acreage-lot New Braunfels community recently opened two miles of walking trails and has plans to add another eight.
"This is rough Hill Country, but we have compacted crushed granite on the trails and you weave in and out of live oaks," he said. "People can walk out of their yard and onto the trail, and they can walk to the amenity center. I don't think even some of them have realized that it's easier to just walk to the amenity center than it is to drive there."
The hope is that people will walk and bike the trails for exercise, but also use them to visit friends and navigate the community, Rutherford said.
"We understood that people were buying acreage out there, but it's important for a community to actually be a community," he said.
Schlenker said that creating neighborhoods where people can walk or connect with nature, as well as offering things such as shaded bus stops or more free fitness events in the parks, are things that can make it easier and more enjoyable to live a healthy lifestyle. He loves the path of the Mission Reach of the San Antonio River, where, "I've seen someone pull out a 12-inch bass (fish) in the middle of the city," he said. "That to me is the ultimate."
A "complete streets" policy where new or refurbished roads are made safe and comfortable for people on bikes, in cars, on buses or walking is one idea that Schlenker said could promote healthier living. The idea would be that whether people live in an urban or suburban setting, they could ride a bike or walk to a park, restaurant or grocery store. Or at least not have to drive too far.
"It's almost impossible to live without a car, but you don't have to use it all the time for everything. If we could all reduce our time in the car by 10 percent, it would be enormous," Schlenker said. "The solution to our national epidemic of obesity is not gastric bypass surgery. That is not going to do it. It really requires really broad solutions that take everything into account."
Click here to read the full article.